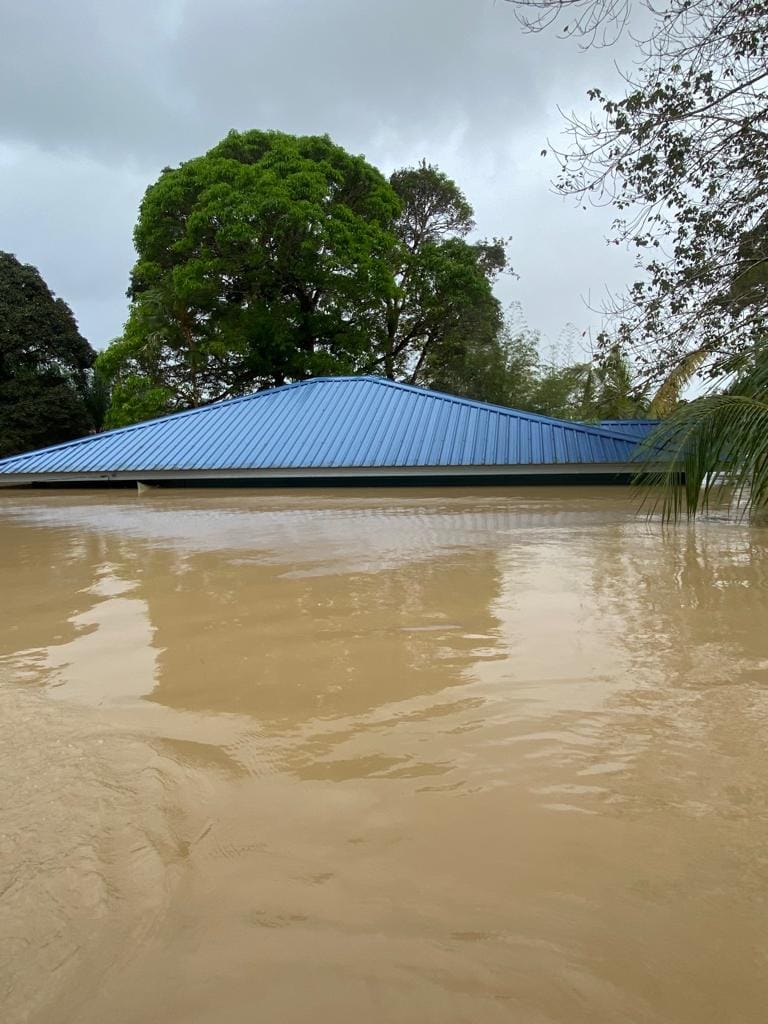 KUALA LUMPUR, March 8 – Setting out on disaster relief activities in flood affected areas in Malaysia may not be a new experience for Johny Yap, founder of Rescue Union, an association of voluntary rescue and relief groups based in Sri Damansara here. However, every new experience during the missions does leave him a little more determined to help those in need of help.
The past one week, Yap and RU members from other charity organisations including members of the Be Good Do Good charity organisation, have been traversing various parts of flood-hit Johor to supply essential goods to flood relief centres as well as reach out to people trapped in their homes or villages that are far away from other areas, such as a plantation area in Mersing.
Along with state and national fire and rescue departments, voluntary groups have been also doing their best to help flood victims, Johny told Weekly Echo in a WhatsApp message when asked on an update of the flood situation in Johor.
Mersing particularly needs help, he said, adding that water levels there remained high.
In a posting on its Facebook, RU expained that although the water level in the Yongping disaster area was high, the disaster relief center was relatively stable. 
"Currently RU is focusing on assisting with emergency supplies and assisting with the shortage of supplies for the new PPS.2."
While, NGOs and government help is in place in most areas, in Mersing where there are many foreign workers, resources are relatively limited. It is also far from Yongping, taking at least four hours to reach from there and another hour by boat to reach the nearer affected areas.
There are at least 10,000 acres of palm plantations inside, and the water level is at least 10-15 feet. Floods have already submerged large areas of forests and plantations.
Currently, more than 500 households and over 2,000 people are receiving support, mostly from an independent rescue worker, Nordon.
Yap said the situation however has not been fully assessed as the furthest that can be reached to provide supplies is by 5 hours by boat!
Meanwhile, Yap, who has been keeping a journal of his experiences, written late in the nights after the long hours of relief work, said he remained concerned with those who are still trapped in the plantation area.
The following are some of Yap's journal entries in the last few days.
5/3/2023 0215
Johny Yap's diary from RU – Real-Life Story
As the night drew in, I found myself sharing my past experiences of disaster relief activities, with two young watchmen, who were both just 16 years old. Suddenly, a frail, hunchbacked old Indian lady👵🏾, who looked to be around 70 years old, appeared silently behind me. Her hands trembled as she whispered a request for Milo and a large bottle of mineral water, explaining that she had difficulty walking and did not want to move too frequently. As I watched her search for biscuits, I couldn't help but notice the pained expression etched onto her face, and the way she tightly clenched her lips. It was as if she was holding back something, and deep in contemplation. With her hands still shaking, she turned to me with a question:
👵🏾: "What time is it now?"
I checked my phone and replied, "2:15 am."
👵🏾: "I can't sleep… Can I go home and take a look tomorrow?"
A girl quickly responded, "The whole garden is flooded, it's very dangerous! Thousands of people can't go home." We all struggled to understand why the old lady was so insistent on wanting to return home.
Undeterred, 👵🏾continued: "As the flood situation worsened, I had to leave home because I knew that moving around in the water would make my whole body pain." After a moment's pause, she added, 👵🏾: "My friend gave me a potted plant, which finally bloomed after much effort, and I didn't have time to move it…I don't know what it looks like now… The food I just bought hasn't been put away yet, and I can't move it at that moment …… Can I go home and take a look tomorrow?"
The girl explained that the water level was still high, the house was still flooded, and it was extremely dangerous. I tried to comfort her by telling that many kind-hearted people had already donated food to this area.
👵🏾: "It's okay, I can walk around in the water." (she had mentioned earlier that moving in the water would make her whole body pain… We were all on the verge of tears and didn't want to upset her any further😔)… The old lady's desire was not about the importance of going home, but rather that she was forced to leave home, and her home may have already been gone. She was worried that the potted plant she had so lovingly cared for and her shelter for many years had been completely destroyed. She was driven by a deep emotional connection with the good old memories…
Rescue Union is a large-scale disaster relief alliance that brings together the Worldwide Wellness Club, government agencies and a wide range of organisations and volunteers. Its mission is to share resources, information and expertise.
For those who would like to keep in touch with the work of Yap and others at Rescue Union and their latest humanitarian efforts, please go to the RU Facebook at: http://Rescue Union https://www.facebook.com/rescueunion1?mibextid=ZbWKwL
–WE