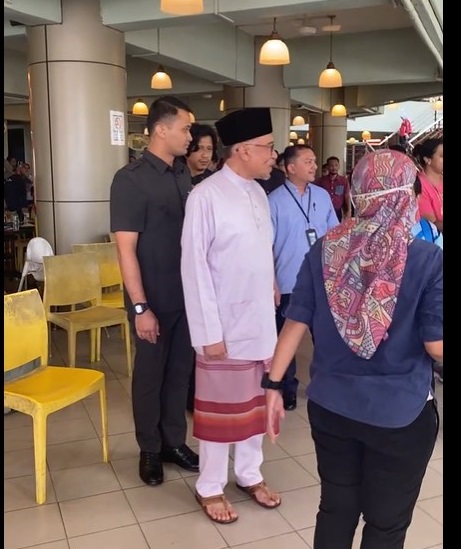 PUTRAJAYA, Nov 25 – Prime Minister Datuk Seri Anwar Ibrahim, who clocked in for duty at the Prime Minister's Office this morning today, received a warm welcome from the staff here.
On hand to greet him at the Putra Perdana building upon his arrival at 9am, were the Chief Secretary, Senior Deputy Chief Secretary of the Prime Minister's Department. Also present were Director General of Public Services, Chief of the Armed Forces, Inspector General of Police and Attorney General.
Anwar was accompanied by senior government officers as he went about to sign the welcome book and his first day of work, a statement issued by the Prime Minister's Office said today.
Anwar, 75, was endorsed by the King as the country's new prime minister on Thursday, Nov 24.
A biography of Anwar was also issued along with the statement.
The 10th Prime Minister of Malaysia, Anwar was born on August 10, 1947 in Cherok Tok Kun, Bukit Mertajam, Pulau Pinang.
Anwar is a well known figure internationally as a Muslim democrat and a reformist. He is also known as the Father of Reformation in the country for his struggles over the years to fight injustice and corruption.
A visionary leader, Anwar has said taking care of the people's problems will be his priority, regardless of their race.
He is married to Dato' Seri Dr. Wan Azizah Wan Ismail, who is the Member of Parliament for Bandar Tun Razak.
Among his involvement in the non governmental organisations and international organisations include:
1980 – Todate: Founder and Emeritus Chairman of International Institute of Islamic Thought.
2006 – 2008: Visiting Lecturer, Georgetown University, Washington DC

1997 – 1998: Vising Fellow John Hopkins University, Washington DC

1988 – 1991: Chairman of Development Committee, World Bank

1983 – 1998: Member and President of the Board of Directors of General Council on Education, Science and Culture (UNESCO) UN, Paris

1972- 1982: Chancellor and President of Universiti Islam Antarabangsa Malaysia (UIAM)

1973 – 1976: Founder and President of Angkatan Belia Islam Malaysia (ABIM)
1973: President Majlis Belia Malaysia (MBM)
1971: Advisor of Youth Council to Secretary General of United Nations
1987 – 1990: Deputy President of UMNO
1982 – 1987: Youth Chief of UMNO PARTI KEADILAN RAKYAT (KEADILAN)
2020 – Todate: Chairman of Pakatan Harapan
2018 – Todate: Presiden KEADILAN
2008 – 2015: MP for Tambun
2020-2022: MP for Tambun

Anwar, who was opposition leader from 2020 to 2022 was also the MP for Port Dickson from 1982 to 1998 and again from 2008 to 2015 and MP for Permatang Pauh from 1993 to 1998.
During his term in the government, he had served a Deputy Prime Minister, Finance Minister, Education Minister, Agriculture Minister and Youth and Sports Minister.
He was given the World's Most Influential Muslim Award by The Royal Islamic Strategic Centre, Jordan
in 1996, and has been also awarded as Asia's Best Finance Minister by AsiaMoney and the World's Best Finance Minister by EuroMoney.
–WE