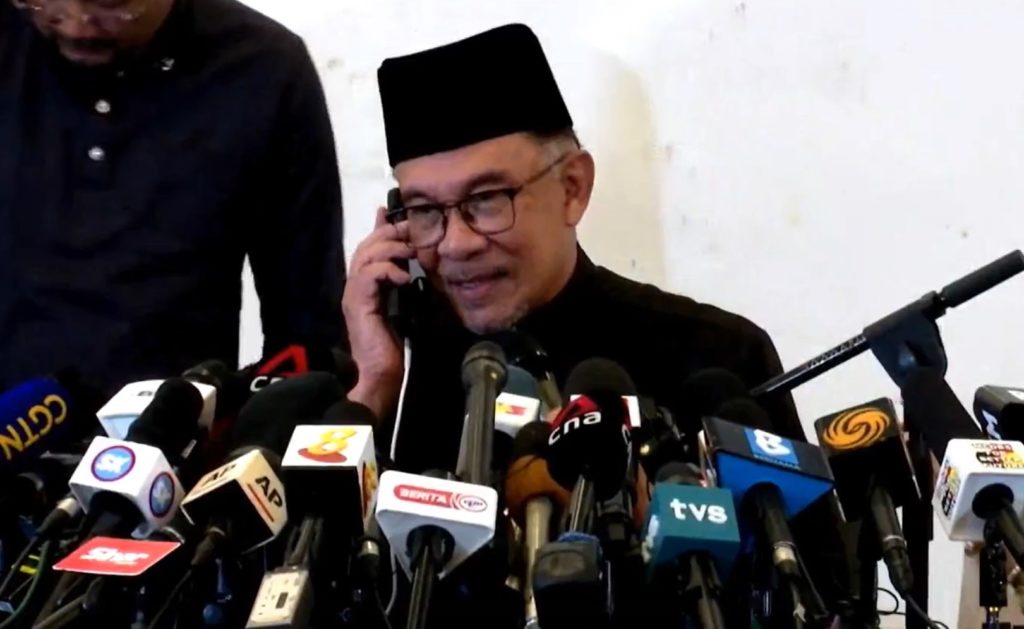 KUALA LUMPUR, Nov 24 – Datuk Seri Anwar Ibrahim started his first press conference as Prime Minister of Malaysia today giving the assurance that the rights of the Malays and the position of Islam as the official religion will be protected under his new unity government.
He also gave his assurance that the rights of all citizens in the country just as enshrined in the Federal Constitution will be protected, and that he will be a prime minister for all Malaysians and no one will be left behind regardless of race, religion or the region they are from. There will be no marginalisation of anyone under the new administration, he said.
On the doubts raised by Perikatan Nasional Chairman Tan Sri Muhyiddin Yassin about the legitimacy of the new government in terms of the number of Members of Parliament supporting the government, Anwar said he had enough support to give him the majority to form the new unity government.
Apart from the 82 Members of Parliament from Pakatan Harapan, he said the new unity government now had the support of Barisan Nasional, which had won 30 seats in the General Election, Gabungan Parti Sarawak (22) as well as Gabungan Rakyat Sabah, Warisan, Muda, and an independent MP.
The issue of a stable government will not arise with this, he said, adding that the doors also remained opened to other parties that wish to participate in the unity government that will represent all races and guarantee harmony among all the people.
He also announced that the first sitting of the new parliament session will be on Dec 19, and that he will table the motion for a vote of confidence on the government the same day.
Ensuring a corruption-free administration and good governance will be the fundamentals of the new administration while reviving the country's economy will be his focus, he said. Tackling the cost of living and the bread and butter issues, especially among the ordinary rakyat, the poor, and raising their welfare and the dignity will be a priority, he said.
Anwar also noted that the stock exchange had reacted positively to the new government. He also announced a public holiday on Monday, Nov 28.
The new prime minister is expected to clock in for duty in Putrajaya on Friday,
–WE