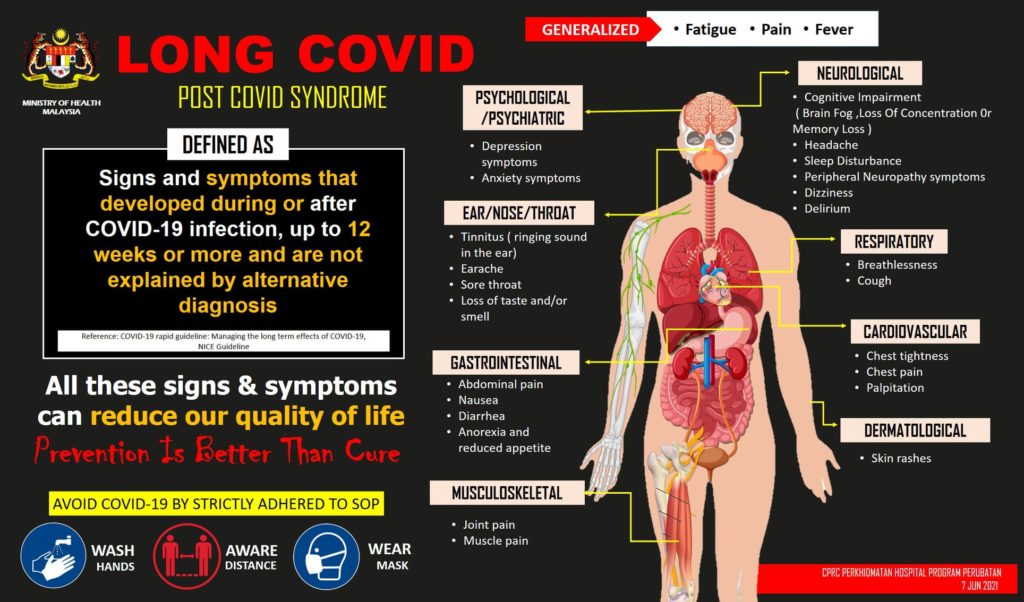 PUTRAJAYA, June 8 – Lucky are the ones who will go through a Covid-19 infection without much symptoms and relatively very little discomfort and swing back to normalcy.
However, some people, long after recovering from a COVID-19 infection, and the trauma that comes with it, would continue to experience some physical effects the virus leave in their body.
At least two of them who spoke to Weekly Echo confidentially said things have not returned to normal although it has been a few months now since they contracted the virus last year and had been hospitalised for a few weeks before returning home.
One of them, an active advertising woman aged 30, said she could not smell or taste anything for a while. She said all the food tasted bland and was unsure if she will ever regain her sense of smell. She has also lost weight as she does not eat as much as she used to.
The other, a man in his 50s, complains of being lethargic all the time, and relies on a wheel chair now to move around, Until recently, he was also using a ventilator after being discharged from hospital.
In a facebook posting today, the Ministry of Health provided a comprehensive spectrum of what people might experience for a while after their recovery from the virus.
According to the ministry's Medical Health Programme, the Long COVID or Post Covid Syndrome is the condition where a former COVID-19 patient still has lingering symptoms for a period of up to 12 weeks or more from the viral infection.
Among them are depression, anxiety loss of sense of taste and smell, ear problems, joint and muscle pain, sleep difficulties.
Meanwhile, the ministry reported a total of 6,962 recoveries today, raising the number of recoveries to 541,319. New cases amounted to 5,566 including 4 imported cases. This also brought the total number of infections to 627,652.
Seventy-six deaths overnight were reported, while a total of 903 were in intensive care units with 458 of them on ventilators.
-WE