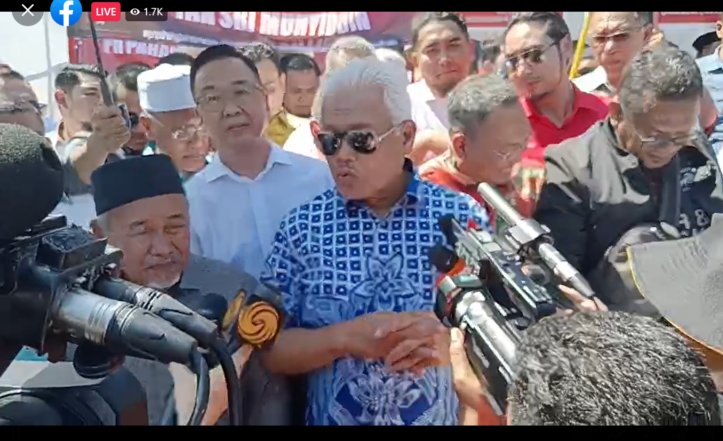 KUALA LUMPUR, March 13 – Former Home Minister Hamzah Zainudin may have committed serious offences when he said he has files on government party leaders from his time as Home Minister, said DAP veteran Lim Kit Siang.
"As he is no more Home Minister, Hamzah should not wilfully retain government files," Kit Siang said in a statement today.
In a recent interview with the Star, Hamzah had said: "I used to be the home minister, I think I've got a lot of files against them too, whether I want to use it or not."
Kit Siang wanted to know if Hamzah was going to turn himself in to the police, as he had retained government files when he was no longer the Home Minister.
"If the files which Hamzah has retained in his possession show that the Pakatan Harapan-UMNO leaders were guilty of corruption and money-laundering, why were no action taken during the Perikatan Nasional government time?"
Meanwhile, Member of Parliament for Kepong, Lim Lip Eng has called for a probe on Hamzah Zainuddin to see if he had been "complicit in the cover-up of certain pro-government politicians," as he had revealed that he had a lot of files against government party leaders from the time when he was home minister.
In a statement issued today, Lim called on Hamzah to answer three questions before he could take any further action in his capacity as a backbencher member of parliament.
He wanted to know if Hamzah could keep the files. "If the answer is yes, do other former home ministers such as Zahid Hamidi and Muhyiddin Yassin also keep such confidential records with them?"
"Secondly, if Hamzah was already aware of the incriminating evidences in the alleged files, why didn't he pursue the cases against the culprits when he was home minister?
"Was Hamzah not duty-bound to uphold the course of justice by reporting the crimes to the authorities? If the files are under the Official Secrets Act, would Hamzah not have committed a crime punishable under the Act by holding on to the files?"
–WE