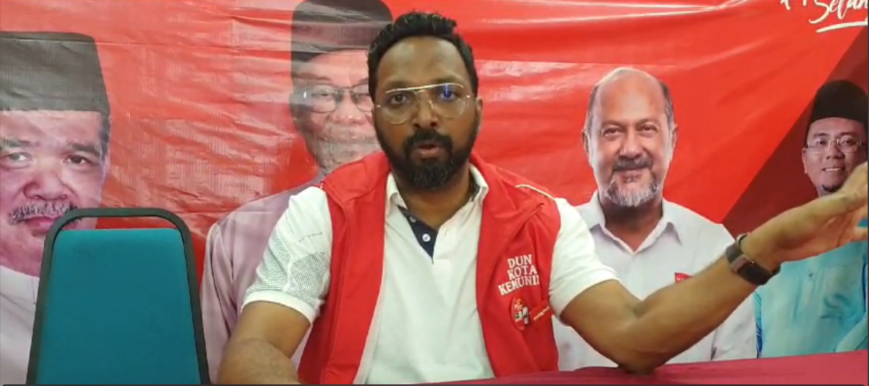 SHAH ALAM, Aug 10: Pakatan Harapan's candidate for the Kota Kemuning state seat, Preakash Sampunathan, 41, expects his legal background will put him in a good stead to help the people of the state constituency in resolving issues that they may encounter.
Speaking to Weekly Echo following a press conference at the PH's operations centre here on Wednesday, Preakash, who is a lawyer by profession, said he had set about looking into the some issues that were of concern to the people and was hopeful of resolving them thoroughly, one by one.
Chief among these, is the flash floods that had hit the Sri Muda and surrounding areas in the past.
"The Selangor state government has been always proactive in helping the people during floods, having taken several mitigation measures, while being there with various forms of assistance to the people during the hard times.
"The flood mitigation projects so far have been jointly undertaken with the cooperation of the federal government, state government and the local authorities. I hope to continue the work and resolve any pending works. These would include enhancing drainage systems, a major reason for the flash floods and also continue with the installation of rainwater pump houses in more locations to prevent repeated floodings."
On his campaigning the last two weeks, he said he had visited almost all the areas under Kota Kemuning including Taman Sri Muda, Bukit Rimau, Alam Megah, Kampung Baru Hicom, Taman Saga and Bukit Lanchong.
Some of the issues, he hoped to resolve include traffic woes, clearance of garbage and abandoned housing projects.
Among other issues, Preakash, who did his chambering under the guidance of Damansara Member of Parliament Gobind Singh Deo, also felt that he was at the right age to reach out to the youths in the area and he hoped to come up with various support programmes to help the group.
DAP's Preakash will be facing Perikatan Nasional's Jimmy Chew Jyh Gang and PRM's Gunasekaran Kuppan this coming state election on Saturday, August 12.
–WE