SHAH ALAM, Aug 11: Youths who made a good number at Thursday evening's PH-BN grand final ceramah were commended by Prime Minister Datuk Seri Anwar Ibrahim for their "brave stand", urging them to remain strong and continue being comfortable with the spirit of freedom, ideallism and reformation.
More than 5,000 people attended the late evening ceramah, with leaders from PKR, BN and DAP including Deputy Prime Minister and UMNO President Datuk Seri Ahmad Zahid Hamidi, Deputy Prime Minister Dato Sri Fadillah Yusof, DAP Secretary General Anthony Loke, DAP Deputy Chairman Gobind Singh Deo, caretaker Selangor Menteri Besar Datuk Seri Amirudin Shari and PH's candidate for Hulu Kelang, Juwariya Zulkifli making their final appeal of support from voters.
Anwar, who also celebrated his birthday on Thursday, received a special welcome to the event, with a song dedication, candle-lit cake and a lighted stage.
"While many states were sleeping, the people of Selangor were among the first states to embrace change," Anwar said in his speech, adding that the attendance of youths at the ceramah were unusually larger than in other states and augured well for the state.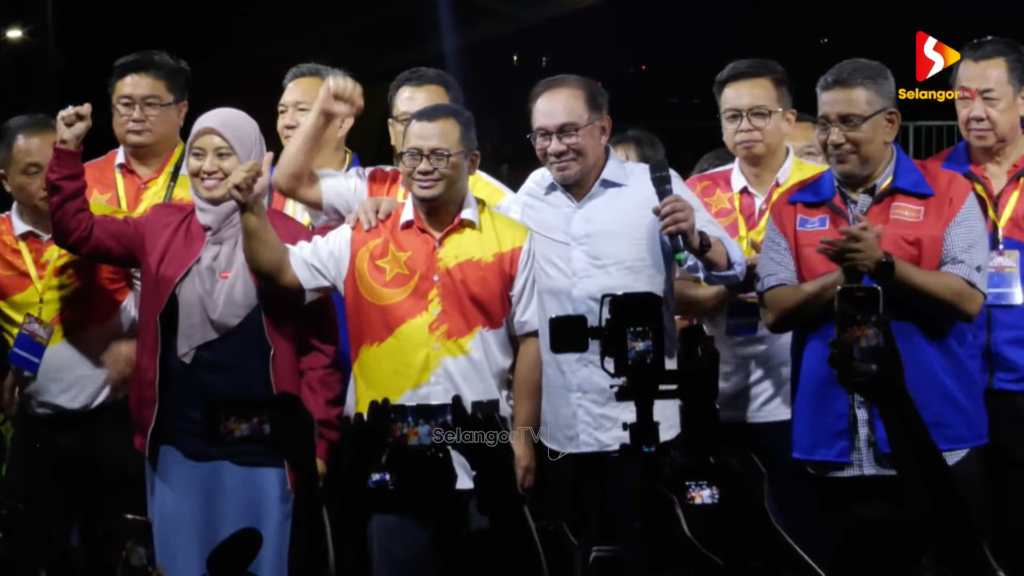 He also urged the people of Selangor to not entertain "traitors" and the constant line of false allegations being made by irresponsible leaders that the Unity Government had compromised the rights of the Malays and Islam.
"Enough with racism, religious extremism," he said, urging Selangor voters to choose the right leaders.
Supporting the Malays, should not mean having to insult other races, he said.
Anwar also reiterated his stand that the Unity Government will bring an end to hardcore poverty in the county by end of this year.
This cannot go on, when people do not have money for meals or access to education and these will end by this year.
Close to 10 million voters in six states will go to the polls tomorrow, Saturday August 12, to decide on who will represent them in their state assembly.
Members of state legislative assemblies will have the power to decide on land matters, public works, local government, agriculture and forestry, Islamic law and public holidays.
— WE