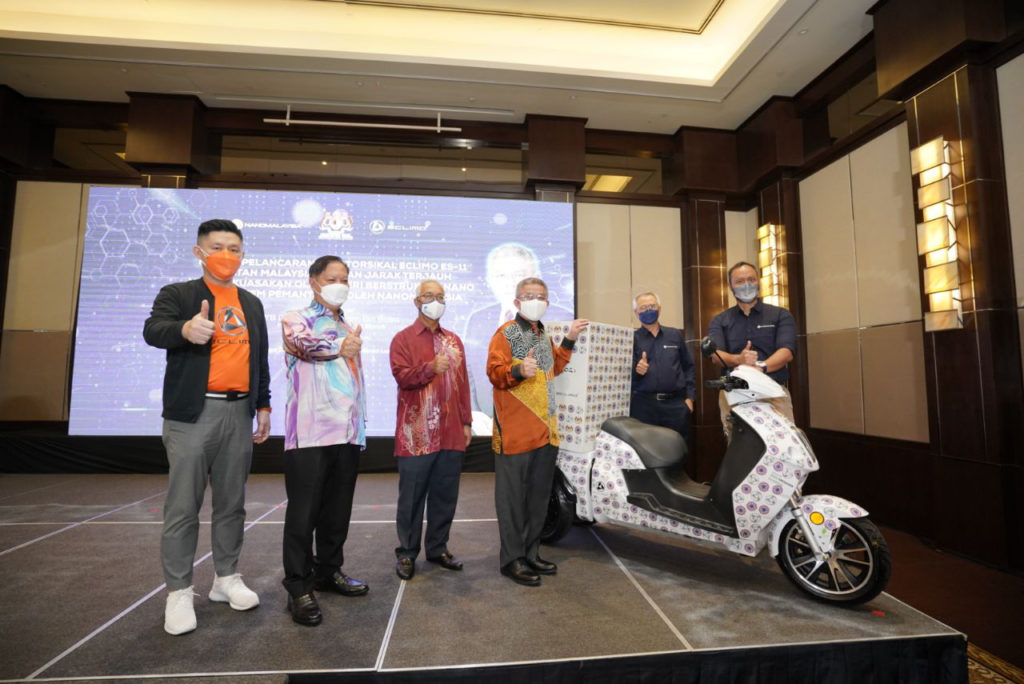 By RK Indumathini
KUALA LUMPUR, Dec 9 – The launch of the electric motorbike ES-11 with a Nano-Structured Battery Monitoring System (BMS), by NanoMalaysia Bhd (NMB) and Eclimo Sdn Bhd today reflects Malaysia's commitment to fulfilling its Carbon Neutrality 2050 aspiration, said Minister of Science, Technology and Innovation Datuk Seri Dr Adham bin Baba.
The new motorbike, besides demonstrating the country's High-Tech Nation and High-Income Nation aspirations whilst aligning to the Low Carbon Mobility Blueprint 2021 – 2030, is also part of the country's efforts to participate in the multi-billion-dollar EV industry.
Speaking at the launch here today, Dr Adham said there were vast opportunities in the industry and that it is expected to help in the country's economic recovery post-pandemic.
He said the government in the 2022 Budget has also proposed to support the EV industry with the proposal that EVs be completely exempt from import duty, excise duty and sales tax.
"EVs will also benefit from a road tax exemption of up to 100% under the proposal, while an income tax relief of up to RM2,500 will be provided on the cost of purchasing and installing, renting or taking up hire purchase facilities, as well as subscription payments of EV charging facilities."
He said the government also saw the potential of EVs in the efforts to mitigate vehicle smoke pollution to support the implementation of the Low Carbon Mobility Blueprint and intensify Malaysia's role in addressing climate goals."
As for the developers of the motorbike, NMB is a company incorporated under MOSTI and is Malaysia's leading agency in nanotechnology commercialisation and industrialisation via a venture builder model.
Eclimo Sdn Bhd is a Malaysian-owned EV company that focuses on the productisation of sustainable energy solutions.
NMB owns the intellectual property rights (IPR) of the BMS and it is expected to assist Eclimo in scaling up the deployment of the e-bike.
In a joint press release issued at the event, NMB Chief Executive Officer, Dr Rezal Khairi Ahmad said the application of nanotechnology in the transportation sector has become a reality with the development of the ES-11 as a use case and a promising first in Malaysia.
"The two-wheeler market has enormous potential as it offers greater electric mobility inclusivity amongst the citizen demographics via significant affordability. It was crucial that we developed a use case successfully in Malaysia first as a platform for regional and global expansion."
Eclimo Sdn Bhd Executive Director, Dato' Dennis Chuah said: "The e-Motorbike market is witnessing a growth trend globally and we want to ride on that wave. This has revitalised our focus and commitment to green technology innovation and reducing carbon footprint."
The price for the ES-11 is RM14,000 and it is currently operating on a leasing business model as well as subscription basis in the Klang Valley, Penang and Johor. Having leased to KFC Holdings Malaysia Bhd and the Royal Malaysian Police prior to this, there are also ongoing negotiations with e-hailing services and plans to expand into the city e-mobility space, allowing people to rent the e-Motorbike as a means of transport around the city.
The ES-11 has a convenient 3-pin plug socket charging system. This solves the problems that frequently accompany electric vehicles (EV): the lack of infrastructure and charging stations. Its Nano-Based Lithium-Ion Battery Cell has a life cycle of 1,000 charges and each charge will enable a travel distance of 100 kilometres (km). In addition, for every 100 km travelled, it saves up to seven kg of carbon dioxide emissions.
In 2020, the global electric vehicle market size was USD246.7 billion and it is expected to increase up to USD1,318.22 billion by 2028. Meanwhile, the Asia-Pacific (APAC) low-speed electric vehicle market size is forecasted to reach 71.8 million units by 2025.
The International Energy Agency (IEA) 's Sustainable Development Scenario expects to put 230 million EVs on the world's roads by 2030.
To date, the ES-11 has generated sales value of more than RM18 million. In addition, every unit of an electric 2-wheeler creates an average of three new jobs. Our company also has footprints in Thailand, and we are leveraging on that to expand the ES-11's market regionally."
–WE