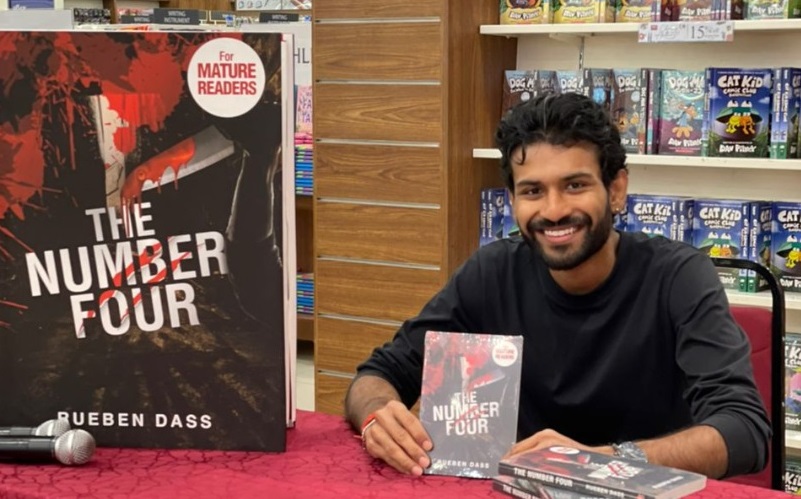 By Aarthi T
KUALA LUMPUR, Oct 25 – For first time author Rueben Dass, his mother's encouragement pushed him to complete his manuscript and gave him the confidence to send it to publishing houses.
"I made a deal with her that I would give her my first 10 chapters to read and if she didn't like them, she must be honest about it to me, and I will abandon the project. As an avid reader herself, I wanted to get into a reader's mind. I was also a little nervous because she preferred light reading materials and not so much into crime and thrillers.
"After going through the chapters, she liked them and I got the encouragement needed to continue writing until I competed the manuscript," said Reuben who is the only child to Santhana Dass and Sundari, who are both retired lawyers.
Rueben who works as a researcher based in Singapore, has always been fascinated with crime and police investigation stories.
Reuben who enjoys watching movies with his father, initially wanted to venture into films and even wrote several screenplays and script. However, he found that it was not so easy as none of the people in his circle wanted to act for him.
"I realised the difficulties in this field only after writing the scripts and since I am not in the film industry, I didn't know where to go with them. So I decided to venture into book writing which does not involve anyone else, other than the writer," he said.
"As a first-time writer, there was a lot of self-doubt and insecurity in me but I wanted to become a published writer. I roped in my mother to become my editor and proof-reader throughout my writing," he said in an exclusive interview.
A year after submitting his manuscript, he found an email waiting in his inbox – where MPH Publishing wanted to publish the manuscript.
"I couldn't believe my eyes when I saw the e-mail since it had been a year since I submitted the manuscript. Immediately I called my mother and told her the good news," he said.
Reuben said he began working on his book 'The Number Four' after returning home from London where he did his Bachelor of Science degree in Physics.
"I got a job after my return from London but in 2018 I was retrenched. So I decided to pursue a Master education but the intake was almost nine months later. To make proper use of the time I had, I decided to write," he said.
Treating his writing as a full-time job, Reuben said he dedicated each day to compete at least one chapter, working from 9.30am until 6pm. The manuscript was completed five months later.
Reuben who holds a Master of Science degree in Applied Mathematics said his manuscript was rejected by several publishing houses.
Dejected, he went to Singapore for his Masters and almost forgotten his manuscript until he saw the email from MPH.
He is now working on a sequel to the book and hopes to make a trilogy. He dreams of turning his books into movie, one day.
His advice to first time writers – never doubt your characters.
"Biggest lesson as a first time author is to believe in your story and your characters enough for them to keep going and to go to light. Even when you are insecure or have self-doubt, always believe in your characters. It is the belief that will keep you writing," he said.
Rueben's 'The Number Four', is a story of a serial killer who seems obsessed with the number four. Inspector Alysha from the Special Investigations Unit investigates these murders and uncovers a dark web of lies and lust as she races against time on the trail of a sadistic serial killer.
Reuben's held a first meet-the-fans session in August this year and found the words of encouragement and comments from readers, exhilarating.
"People walked up to me and shared how much they enjoyed the book and how they could not put the book down. This isn't about money but the satisfaction that comes from that, I really have no words to describe," he said.
Reuben's The Number Four is available at the MPH Midvalley.
–WE