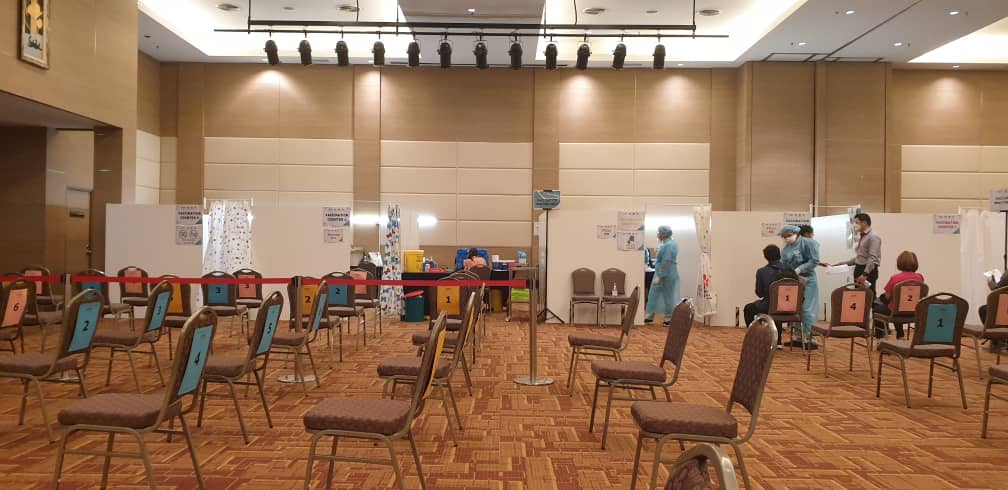 My dad is 76 years old and has been very reluctant to get vaccinated due to the confusing and disturbing messages he has been receiving from people not only in Malaysia but all over the world pertaining to the variety of vaccines and their short and long term side effects.
We've all heard of the weaknesses in the manner the vaccine roll out has been implemented in the country.
We are inundated daily with messages of fear and adverse effects of the vaccines, which, of course as recipients of the vaccines, we are concerned about.
Anyway, to cut the long story short, considering the severity of the Delta virus, which is much more aggressive than the earlier variant, I, together with members of the family managed to persuade my father who was very reluctant to get vaccinated, to register for his vaccination on the 16th of July 2021.
All the while, since the off-and-on MCO, he has hardly left the house and strictly followed the SOPs, conscious of his responsibilty to not get exposed to others, or expose anyone else to him in line with the government's regulations and "stay at home" order.
Upon his registration, my dad was immediately scheduled for vaccination on the 24th July 2021 at Setia Alam Convention Centre, which is very far from our home.
We live in Sunway and most of my neighbours got their appointments for vaccinations at either Sunway Medical Centre or Sunway Convention Centre.
Not knowing how to go about changing the venue to a centre nearer to our residence, I called the Sunway Convention Centre and asked if my dad being already 76 could just "walk in" considering he is a "warga emas" and the Government had just announced one day after my dad's registration that anyone above 60 years could do so at any PPVs in Selangor and KL.
The lady at the Sunway Convention Centre gave me the number of the main Vaccination Centre in Putrajaya and told me to confirm with them first. When I called, a young gentleman on the line said "yes" he could walk in to any nearest centre and get vaccinated as the government wants to expedite vaccinations for the elderly first.
I clarified about his registration and the venue he had been given and he assured me it was ok and that it didn't matter.
However, the instruction I received was not very clear as he neither told me to confirm or cancel the earlier appointment on my dad's "MY Sejahtera."
On my own. I wrote to the My Sejahtera helpdesk and requested if my dad's venue at Setia Alam Convention Centre could be cancelled and rescheduled at the Sunway Medical Convention Centre as it is just 5 minutes away from our house.
There has been no response so far from Putrajaya until today, except an auto-generated reply which said my query will be attended to within five working days.
Today, the 23rd of July 2021 at 8.30 am, after going through some hassles looking around for parking space, lining up and filling out the forms, I met the lady at the counter who asked if she could take a look at my dad's My Sejahtera,
I explained my dad's situation, that although he had already been given a venue which was too far away from our residence,
I had already called up Putrajaya and they said it was ok to walk in to the SMC but the lady there insisted "No".
She told us she can't have him vaccinated "today". She insisted I write in again to Putrajaya for a change in venue. I told her we had done that. She said "sorry, we can't do anything."
She said I needed to cancel his appointment first and wait for the appointment to be removed from the system before he could walk in to any other vaccination centre.
I pleaded with her, to avoid exposing him to "the dangers of the contagion" as he has been indoors all these past few months and had just come out of the house particularly for the vaccine, but she was firm and flatly refused to oblige.
She further added that we might have to wait indefinitely …. one day, one week, or even one month before the venue is removed from my dad's My Sejahtera. Is it really the case?
She continued, many others have undergone similar experiences and that this was beyond her control.
To me, flexibility at this point could have saved the situation and helped my father get his vaccine.
I left the place shocked and furious as I felt helpless with this current haphazard system, where despite the critical stage of the pandemic, staff manning the PPVs had no compassion for the elderly, show understanding and initiative to negotiate and solve issues.
Our national leaders, meanwhile, are at odds with each other, issuing conflicting statements on a daily basis.
There are some who even defend wrongdoings (the usage of empty syringes) without any shame or remorse !!
I urge the authorities to be consistent in their instructions and guidelines at this critical stage of the pandemic to lessen the number of daily infections and loss of lives.
Anis Abdullah
Sunway