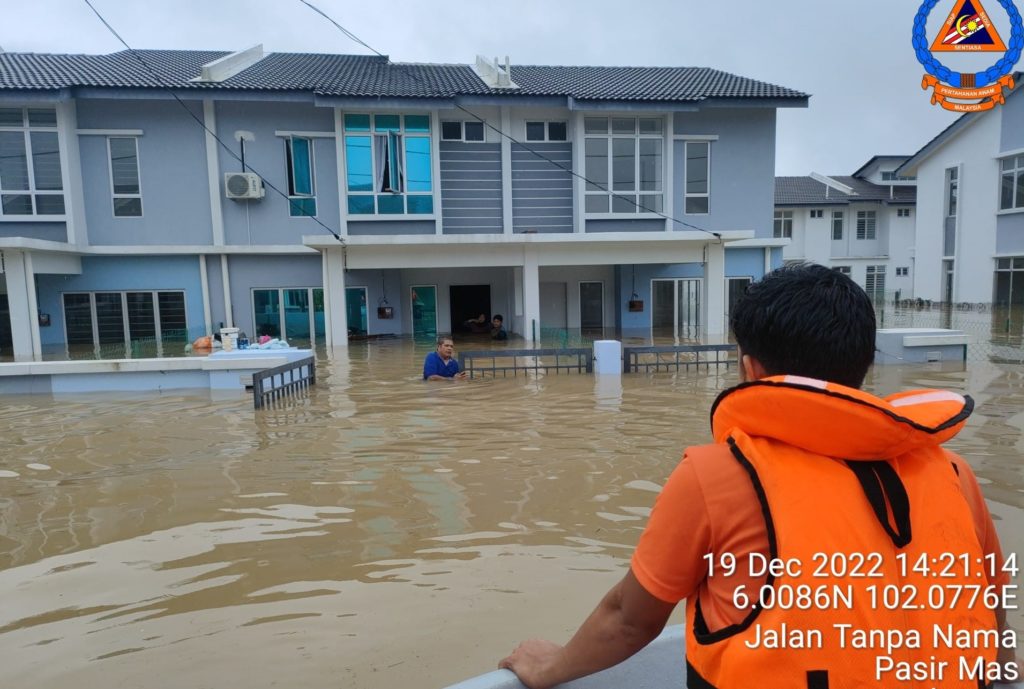 Updating with new info on Selangor, Terengganu
PUTRAJAYA, Dec 23 – The National Disaster Management Agency has issued warnings that flood water levels in two areas in the Pasir Mas and Tumpat districts have reached dangerous levels, calling on people to observe all given flood directions.
In an advisory issued at 10am today, Nadma said the water level in Rantau Panjang, Pasir Mas had exceeded the danger level of 9m and was unchanged at 10.27 while in Kuala Jambu, Tumpat the water level had risen to 3.5m from the danger level of 2.5m but added that the water was on easing trend.
It also issued a status of caution for the water levels of Sg Kelantan in Kuala Kerai, Sungai Lebir in Kg Tualang but added that the water levels were coming down as 10 am.
It also issued a statement of caution on the water level of Sg Kelantan in Jeti Kastam, Kota Baru, saying that it was on a rising trend.
Other other areas where water level has exceeded dangerous levels include Sg Bernam River in Selangor, as well as in Kuala Nerus and Kemaman in Terengganu.
Kelantan and Terengganu are among the most severely affected states by this monsoon season, hit by continuous rain, and floods the past one week. Other affected states include Pahang, Johor and Perak, Selangor as well as Sabah and Sarawak.
More than 70,000 people had been placed in flood relief centres in Kelantan and Terengganu at the height of the floods on Dec 20. The number of victims are currently on a downward trend at 51,000 according to statistics provided by the Civil Defence Force (APM).
Five people have also died during the floods, including the tragic death of three sisters who were electrocuted in flood waters near their house in Kampung Bendang Surau near Morak in Kota Bharu.
The government had taken on full preparations ahead of the flood with its uniformed personnel engaged in all hot spots, while volunteers have also joined in the task of flood relief operations and assistance including the provision of essential items and the transport of flood victims.
On Wednesday, Prime Minister Datuk Seri Anwar Ibrahim announced a special assistance allocation of RM50 million each for both Kelantan and Terengganu in view of the flood situation in the two states.
He also directed for immediate commencement of work on the delayed Sg Golok flood mitigation project.
–WE