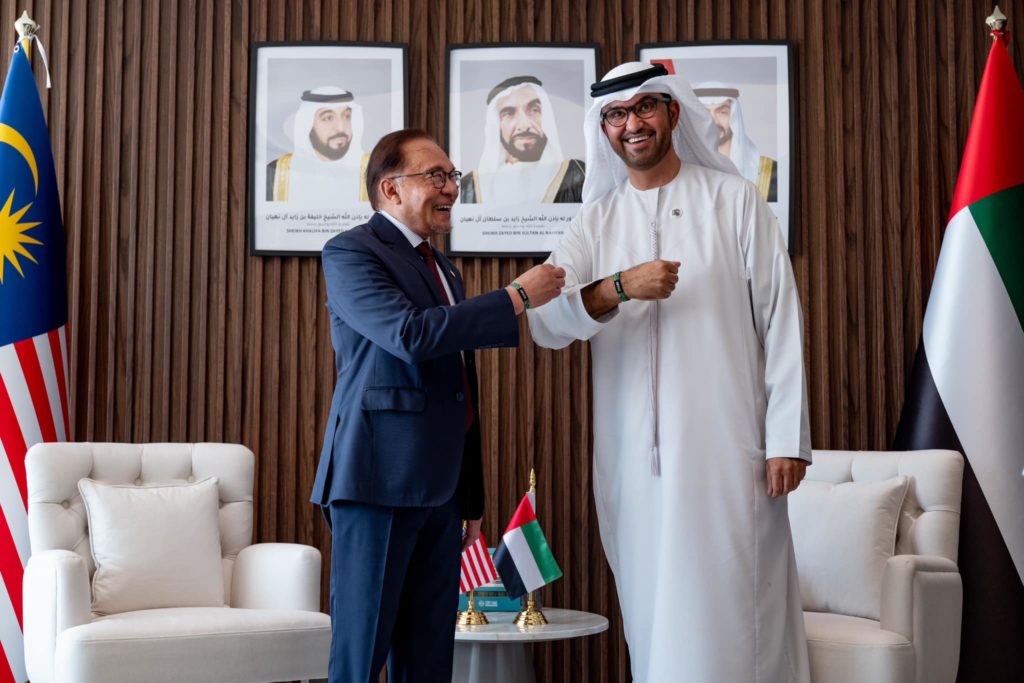 ABU DHABI, Oct 7: Prime Minister Datuk Seri Anwar Ibrahim's working visit to the United Arab Emirates (UAE) on Thursday and Friday may have lasted only for about 36 hours, but within that short period, Malaysia is set to reap a number of investment benefits from the Gulf nation.
Anwar's packed schedule started on Thursday with a meeting with UAE President Sheikh Mohamed bin Zayed Al Nahyan, who is also the Ruler of Abu Dhabi, as well as several senior ministers in charge of the economic affairs, trade and investment, the stakeholders of UAE's sovereign wealth fund, Abu Dhabi Investment Authority (ADIA), and major companies.
The 36-hour visit secured investment commitments amounting to RM40.6 billion (US$8.6 billion) in sectors such as renewable energy, aerospace and logistics.
Among them was the signing of a memorandum of understanding between the Malaysian Investment Development Authority (MIDA) and Abu Dhabi Future Energy Company PJSC-Masdar for renewable energy projects in Malaysia with a capacity of up to 10 gigawatts worth US$8 billion.
Other investment commitments include US$450 million in the logistics sector and US$150 million in the aerospace sector.
During the meetings, Anwar assured that Malaysia is committed to advancing renewable energy as well as improving the ease of doing business in the country.
"When you come to Malaysia, you can see it for yourself, see the changes from what you observed five or three or even two years ago.
"I want to prove a point – now things are much better and it is easy to do business due to clear determination and effective leadership as we want to make sure things function effectively," he said during a roundtable meeting with UAE's captains of industry.
He said the government would identify several suitable locations for foreign investors interested in the renewable energy sector.
The UAE media has described the strong relations between the UAE and Malaysia as resulting from the close ties between the Yang di-Pertuan Agong, Al-Sultan Abdullah Ri'ayatuddin Al-Mustafa Billah Shah and Sheikh Mohamed that were cultivated since their military training days in the 1970s at the prestigious Royal Military Academy Sandhurst (RMAS) in the United Kingdom. 
"His Majesty also played a major role in strengthening relations with the UAE, for his good and close relationship with Sheikh Mohamed," said Anwar at the end of his visit.
Anwar also visited the Masdar City, known as the world's first planned sustainable city.
He described Masdar City as being developed in a sophisticated and modern way and met green requirements, and also housed the world-class Mohamed bin Zayed University of Artificial Intelligence (MBZUAI), the first university specialising in AI.
Following his visit, Anwar said it is now up to the relevant ministries and agencies in Malaysia to turn the investment commitments into reality to benefit the country and its people.
Meanwhile, Investment, Trade and Industry Minister Tengku Datuk Seri Zafrul Tengku Abdul Aziz said in terms of renewable energy, it would be more effective for MIDA and Masdar as the relevant agencies concerned to look at Malaysia as a country that produces renewable energy.
He said that in addition to the latest investment commitments reached during Anwar's visit, there are several potential investments still being negotiated such as in food technology, food security, hospitality, manufacturing and data centres.
— BERNAMA