GENEVA, March 10 – A total of 18 attacks on Ukraine's health facilities, health workers and ambulances has been verified by the World Health Organization, its Director-General Dr Tedros Ghebreyesus said on Wednesday.
Speaking at a press conference here, he said these included 10 deaths and 16 injuries, and reiterated that the attacks were depriving whole communities of healthcare.
Calling on Russia to "commit to a peaceful resolution to this crisis, and to allow safe, unimpeded access to humanitarian assistance for those in need," the WHO DG once again said that a peaceful resolution "is possible."
Tedros said WHO has delivered 81 metric tons of supplies to address the health crisis adding that the Organization is establishing a "pipeline of supplies for health facilities throughout Ukraine, especially in the most affected areas."
He said WHO delivered five metric tons of medical supplies to Kyiv on Tuesday to support surgical care for 150 trauma patients, and other supplies to manage a range of health conditions for 45,000 people for a month.
More supplies will be distributed through WHO's logistics hub in Dubai, he said.
According to Tedros, more than two million people have left Ukraine, and WHO is supporting neighbouring countries to provide healthcare for refugees, "most of whom are women and children."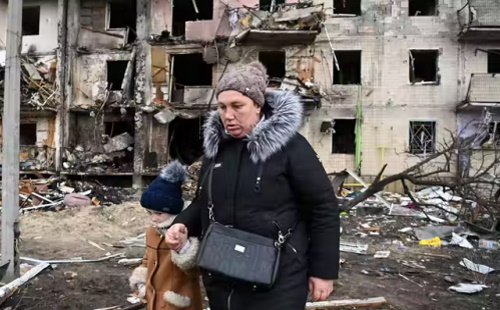 "Some of the main health challenges we see are hypothermia and frostbite, respiratory diseases, lack of treatment for cardiovascular diseases and cancer, and mental health issues. WHO personnel have been deployed to neighbouring countries to provide mental health and psychosocial support."
Dr Mike Ryan, Executive Director of WHO's Health Emergencies Programme, said the organisation has raised the issue of "chemical and bio- nuclear safety right since the beginning of this pandemic. We've worked to ensure that high threat pathogens all over Ukraine were autoclaved and destroyed. We have worked on ensuring and monitoring for any attacks or any damage to chemical installations, as well as nuclear installations."
According to him, there were approximately 1,000 health facilities of different size "either on frontlines or within ten kilometers of frontlines."
He stressed that the Ukrainian health system is "becoming engulfed in this conflict".
"Hospitals are being abandoned by the authorities because they simply cannot function. And there's an attempt to move hospital equipment, to move doctors and nurses around."
He added, "It's very hard to do de-confliction. It's very hard to do the kind of humanitarian operations that are needed to provide the kind of significant support. Sending supplies to hospitals is great. But those hospitals need power, they need clean water. They need engineers to be able to help. They need fuel for the fuel supply for generators. All of this infrastructure and engineering support is needed to keep your average hospital going in a normal situation in the middle of a shooting war, it's almost impossible. ….it is the conflict that is driving this health crisis and this health crisis will not stop. It will only get worse. Unless we have ceasefire, unless we have peace."
–WE