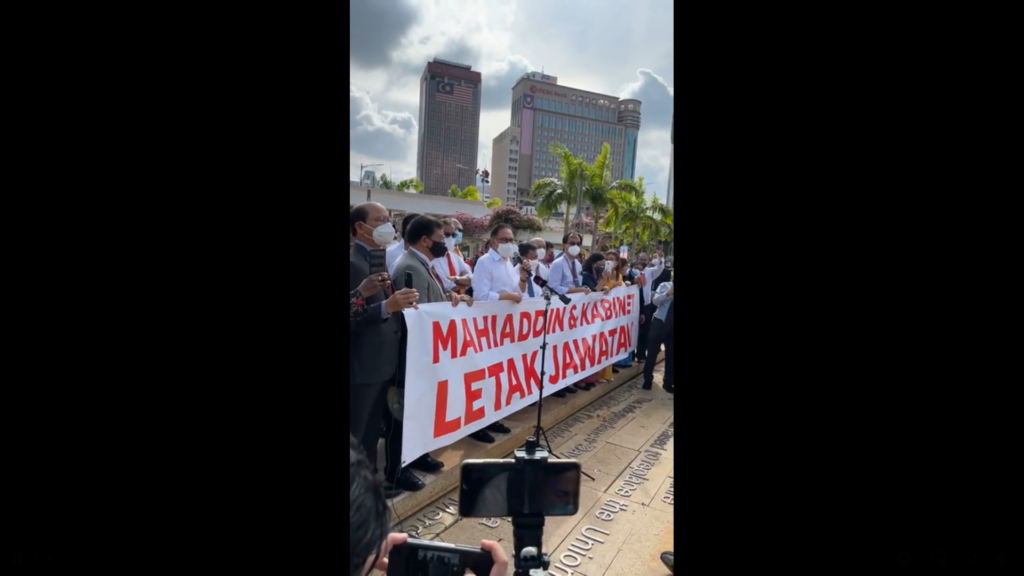 KUALA LUMPUR, Aug 2 – Leaders from the Opposition parties today took to protest at the Dataran Merdeka today following the postponement of the Malaysian Parliament special sitting which was originally slated to continue today.
The postponement for two weeks was based on the advice of the Director General of Health, Tan Sri Dr. Noor Hisham Abdullah, who had cited four positive Covid-19 positive cases found last Thursday during tests, involving staff of the Parliament, as reasons to carry out risk assessment of the building.
Members of the Parliament today attempted to enter the Parliament building, insisting on carrying out their duties including the members of the Parliament Select Committees that had been scheduled to have their meetings today.
They had gathered at the historical Dataran Merdeka here to march towards the Parliament but the MPs were prevented from entering the Parliament by Federal Reserve Units who were on full gear.
A Facebook live streaming from MP for Segambut, Hannah Yeoh showed the MPs protesting the lockdown of the Parliament and calling for justice for the people.
Among those who took to the stand were Opposition Leader, Datuk Seri Anwar Ibrahim and DAP Secretary General Lim Guan Eng. According to Anwar all 107 MPs were present at the protest, calling for the resignation of the Prime Minister and the current administration based on their unsatisfactory handling of the Covid-19 pandemic, the economies of the people and businesses.