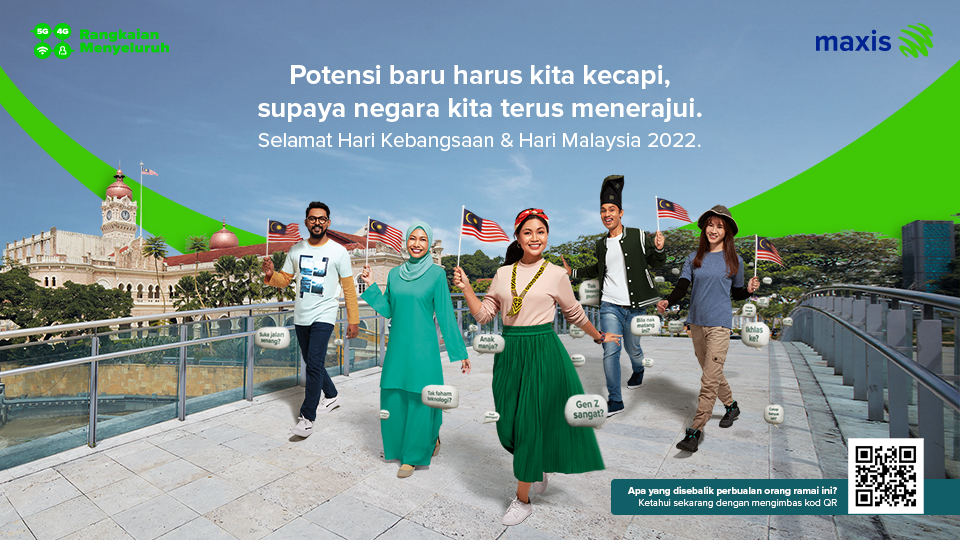 By RK Indumathinii
KUALA LUMPUR, Aug 29 – This year's National Day celebration will get to be a grand occasion again with a parade at the Dataran Merdeka this Wednesday, Aug 31.
With no open celebration in the last two years due to the Covid-19 pandemic, this year's full swing parade, with participation from various public and private organisations, is expected to draw more than 50,000 people to the Merdeka Square here to witness and jointly celebrate the event, with the theme for this year being "Keluarga Malaysia Teguh Bersama".
His Majesty Al-Sultan Abdullah Ri'ayatuddin Al-Mustafa Billah Shah and Raja Permaisuri Agong Tunku Hajah Azizah Aminah Maimunah Iskandariah are also expected to grace the event.
Meanwhile, in a recent statement, Maxis announced that it has unveiled its Hari Kebangsaan and Hari Malaysia's brand film, "Apalah Generasi ini?" in recognition of Malaysian youth as the country's current and future leaders. The film follows the challenges of several young Malaysians who are trying to find gainful employment in a society that expects them to conform to existing ideals and norms. Along the way, they are found to be well equipped with the digital tools required for them to earn via online. They then help the society with what they have.
The movie can be viewed here; https://youtu.be/r-74sXnpmQ0.
Tai Kam Leong, Head of Brand and Marketing, Maxis said this generation of young Malaysians were inspiring and "We are committed to empowering them with the digital tools and skills to thrive, as we firmly believe that they are core to Malaysia's diverse and vibrant digital economy."
The communications service provider said it will be organising a Malaysia Day edition of its popular eKelas Usahawan workshop on 24 September 2022 in conjunction of National Day.
Primarily targeting women entrepreneurs from B40 communities, eKelas Usahawan comprises a series of digital marketing workshops with a practical and hands-on approach to equip entrepreneurs through modules including tips and basic skills on marketing, digital photography, copy writing and planning for marketing and advertising campaigns via online and social media platforms. Since its launch last year, more than 1600 entrepreneurs have been trained under the programme.
The virtual workshop is open to all existing or aspiring entrepreneurs. With a limited capacity of only 300, seats will be reserved on a first come, first served basis. To sign up, go to: https://www.maxis.com.my/hari-malaysia-2022
–WE