By Manik Mehta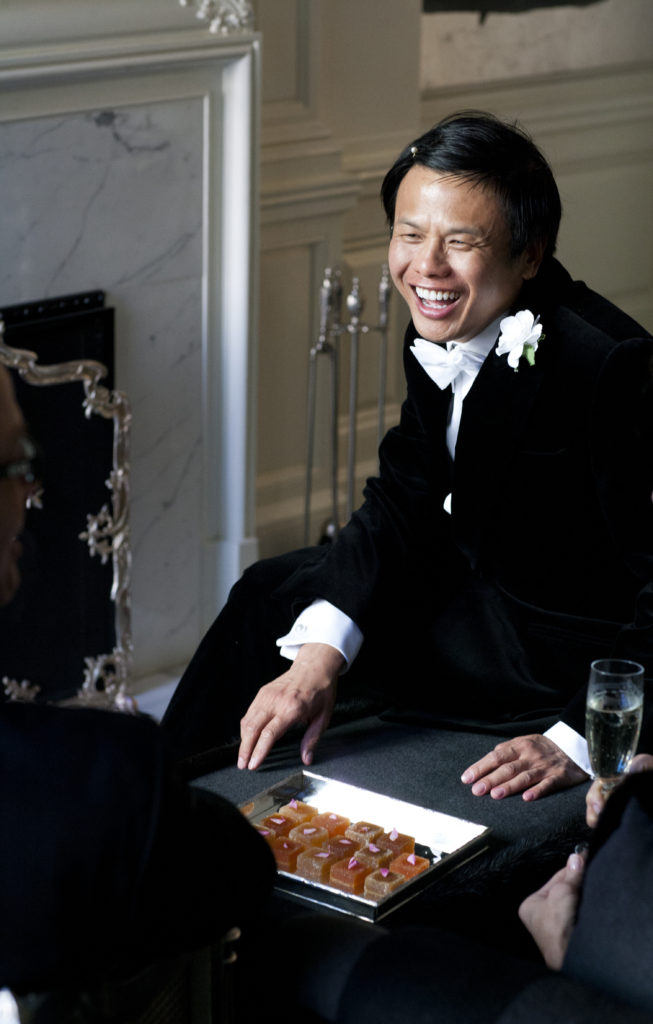 NEW YORK, Sept 24 – Kelantan-born Zang Toi, who, many say, has put Malaysia on the world's haute couture map, recently unveiled his latest spring 2023 creations in New York's Harmonie Club, which attracted a crowd of fashionistas, upper-class socialites and a large pool of photographers and fashion-
specialized media.
It is not uncommon to create fashion with what is called the "eye of the imagination". Creativity may be divorced from the mundane things of life, but it would certainly earn applause from those who appreciate the combination of creativity and business.
According to Toi, his spring 2023 collection, presented under the theme "Pretty Black & White Palette", was inspired by the sight of a "gorgeous young lady with a newly discovered appreciation for the beauty of haute couture. She borrowed her grandmother's grand ballroom in a chateau to host a black and white soiree for her gorgeous young friends".
It is customary to present creations in advance for the coming season – the "season of spring when nature begins to bloom again and the trees start to get their foliage after having shed their leaves starting with fall (autumn) and looking barren through the cold and dark winter".
A bevy of, mostly, white wig wearing models strutting in the catwalk before the closely watching spectators, juxtaposed with dark haired models clad in dark costumes, conveying the changing fashion patterns that characterize the spring season.
The show opened with a female model wrapped in a white Swiss cotton organdy floor-length long off-shoulder dress bordered with pleated ruffles and black stretch crepe body slip. A male model displayed men's peonies and butterflies chiffon print shirt and black cotton denim jeans.
Another impressive creation was a white cotton acetate faille sculpted cardigan bordered with white re-embroidered medallion lace and a white acetate faille high wasted mini skirt. The list of 35 creations presented by Toi was characterized by innovative designs, colours and nuances. Toi said that he was "pleased" to launch his spring collection because this particular collection also reflected the changing trends in the haute couture world against the backdrop of the onset of the spring season.
In an exclusive interview with the Weekly Echo, Toi said that his theme for this show was on the "tomboyish look" inspired by the story of a 15 year old energetic girl growing up in Europe and dreaming of cladding herself in designer clothing. "She (the "tomboy girl") decided to borrow her grandmother's items … the fashion clothing worn by the model was matched by her facial dark-shaded make-up … the look strongly contrasted with the clothing worn by her grandmother and mother," Toi explained.
Malaysia's leading fashion designer, who seems to be sought by America's top one percent fashion-conscious circle, explained that he had used, mostly, light colours in keeping with spring and he had taken a basic fabric and made a haute couture statement. "All the clothes were handstitched without using any machines and done in India which has some of the finest and nimble-fingered stitching experts as per my designs and colours. The creations were livened up with designs of flowers and butterflies placed in positions with clockwork precision."
When asked to comment on the lockdown in the U.S. during the "Covid year" which had a severe adverse impact on some businesses, Toi acknowledged that it was a "scary time". "At first, business seemed to be slowing down. However, I was invited in August 2020 by the Nashville, Tennessee based Gusmayer to do a trunk show but it had to be cancelled because of the lockdown This was moved to April 2021 and Gusmayer invited me to the show. We hosted the trunk show and got orders," he said, adding that despite all the Covid scare, he was "not afraid". The trunk show was "very successful" This was one of the finest shows in Gusmayer's 41 year history, he maintained.
The House of Toi bagged good business despite the heavy odds it faced during the pandemic. Toi also narrated that he got mail from the iconic store Sachs which operates upper-end outlet on New York's Fifth Avenue. "Sachs wanted me to stage a trunk show for three months in its stores across the United States," he noted. Indeed,
Toi reflected, the year 2022 had also started on an optimistic note and promised to be better than 2021.
"This country is almost back to normal. New York has still not fully opened itself but more and more people are returning to normalcy. You asked me what drove me to do business even during the tough part of the Covid. My answer is simple: I decided to choose freedom over fear!"
Toi's success in the fashion world is also unique because his entire business runs on "made-to-
order" basis. "It is a very exclusive business. Indeed, I rely on an exclusive clientele which recognizes the merits of exclusive haute couture clothing to suit their special needs."
–WE