SINGAPORE, June 24 – Malaysia's financial technology (fintech) sector saw a better spot on the 2021 Global Fintech Rankings, moving up 11 places to the 67th spot compared with last year.
The ranking, which identifies emerging hubs, fintech companies and trends, is produced by Findexable, a real-time financial technology (fintech) data company in partnership with Mambu, a leading cloud banking platform.
In releasing the findings of fintech industry performances worldwide, the report by Findexable said in the year 2020 the fintech sector expanded globally and financially, building upon a surge in demand for technology that increases access to digital finance.
Previous reports showed that this trend was accelerating, but over the period covered by this year's report diversity among fintech companies exploded, with 50 new cities and 20 new countries added to the index, meaning that they host the headquarters of at least 10 privately-owned fintech companies, a joint statement issued by Findexable and Mambu said today.
On Malaysia's performance, Myles Bertrand, Managing Director APAC for Mamby, said : "The past year has seen an enormous amount of transformative change taking place across the Asia Pacific region, with Malaysia in particular making huge progress in digital banking.
"The 2021 Global Fintech Rankings report shows just how much progress is being made in Malaysia, with Kuala Lumpur earning a special mention for shooting up 11 places in the Global Cities rankings to now be ranked at number 67 in the world. This is quite an achievement, and is likely to encourage greater fintech innovation in Malaysia.
"Mambu is working closely with a number of fintechs and financial service providers in Malaysia and we are incredibly excited about what's in store for the near future."
Elsewhere in the region, Singapore took the 4th spot in Global Fintech Rankings (down 1 from 2020) while Singapore City ranked number 10 in the city rankings (down 6 from last year).
Jakarta moved up 27 places in city rankings, to 32 globally.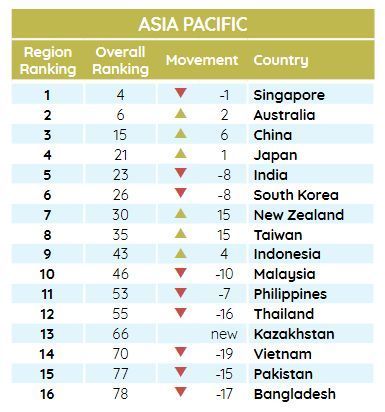 According to the report, financial technology is bridging gaps in consumers' lives, many of them revealed or made more urgent by the COVID-19 pandemic.
"Data from Mastercard showed that in the first quarter of 2020 there was a greater shift to digital banking in ten weeks than there had been in the previous five years. Fintech can no longer be dismissed as a fad but is a part of billions of peoples' lives – 'fintech for all rather than the few'.
"However, there is a significant gap between major players and the next generation of innovators in terms of funding that needs to be addressed to keep the industry moving forward with new ideas. There also remains a gap between the customers of fintechs – women are often early adopters, while emerging markets are sources of giant user bases – and the people leading them."
It said that although major technology and finance centres like London, New York and San Francisco are still global centres of development, the fintech industry is becoming more geographically diverse. Several African countries have debuted on the list, including the Seychelles, Rwanda, Tunisia, Zimbabwe and Somalia, and cities like Riyadh and Tel Aviv have moved up the rankings, with the latter joining the top ten cities in the world for fintech growth. 
With more fintech companies being founded in a greater range of locales, from Flutterwave in sub-Saharan Africa to the digital currency launched in the Bahamas, the needs of specific populations are being served by people from those areas. In total, of the 83 countries in the rankings this year more than 20% are new entrants. In short, emerging markets and digitally savvy but underbanked populations continue to be sources of fintech innovation. 
The fintech Index algorithm ranks the fintech ecosystems of more than 264 cities across 83 countries incorporating data from findexable's own records and collated and verified by its Global Partnership Network, including Crunchbase, StartupBlink, SEMrush and 60+ fintech associations globally. The index was first published in 2019.
The country and city rankings were calculated from a total score comprised of a combination of three metrics:
Quantity – Size of fintech ecosystem and supporting structures – number of fintechs, fintech hubs, co-working spaces, accelerators, global influencers and population (countries only)
Quality – Impact/performance – size and growth of fintechs (e.g. number of unicorns), investment, events, value generation, international collaboration, website ranking
Environment – ease of doing business, critical mass, regulatory environment – regulatory interventions to improve competitive environment, incentives for start-ups, internet censorship, payment portals, fintech courses.
Investment in the sector has also gone up significantly. Findexable's founder and CEO Simon Hardie said this was gratifying and was especially good to see that the pandemic didn't slow down, and may have in fact accelerated, the adoption of fintech in parts of the world that have previously been underserved."
"Just as important as whether the industry is growing is the question of whether the industry as a whole is helping ordinary people solve the problems of financial access, cost and simplicity. A University of Illinois study conducted with last year's data showed that 'a country's level of fintech development is highly related to improvements in financial inclusion in emerging economies.' We can extrapolate from this that the increase in fintech companies in under-banked regions will lead to greater financial inclusion in those areas."