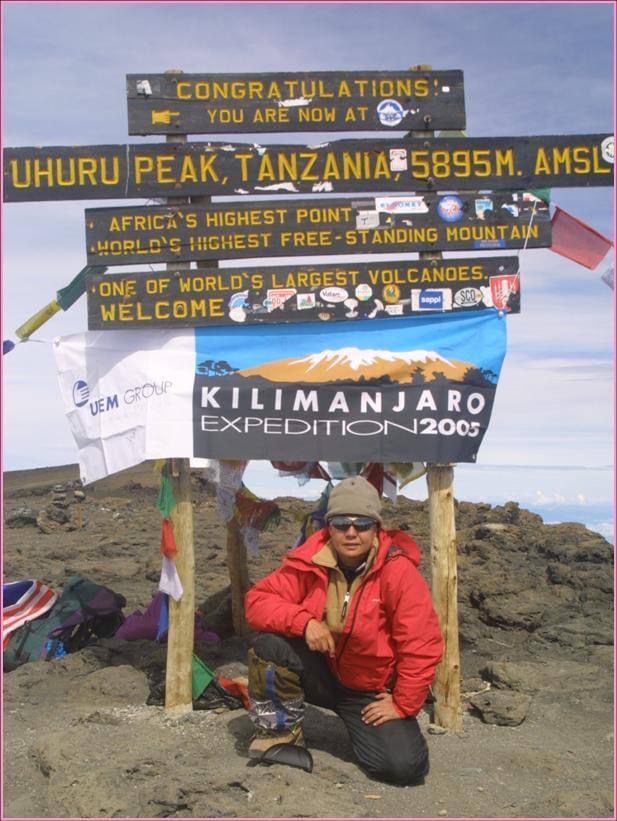 By Rene'e Aziz Ahmad
My cancer journey began more than 20 years ago in 2001, just after my 40th birthday.
Finding out that I had Stage 2 breast cancer came as a shock! It was discovered almost by accident because I'd noticed something different about my left breast and gone immediately to a hospital the next morning to get it checked out.
From that moment onwards, my life took an unexpected turn and I soon found myself on a treatment plan that included a mastectomy to remove my left breast, eight cycles of chemotherapy and five weeks of radiotherapy.
It took about nine months to complete the adjuvant treatments and then I embarked on a new chapter of my life in which I was now a survivor on a five-year prescription for Tamoxifen, a hormone therapy used in the treatment of hormone receptor positive breast cancers.
By 2003, life had returned to a semblance of normality interspersed by follow-up appointments with my breast surgeon and oncologist.
During this time, I discovered a love for high altitude mountains when some colleagues invited me to join them on an expedition to climb Mount Kilimanjaro in East Africa.
After a year of intensive preparation and training, I set off for Tanzania feeling nervous and unsure of what lay ahead. It took four and a half days of trekking through forest, moorland and alpine desert to reach the top of the world's highest free-standing mountain.

Finally, at 9:45 a.m. on 26th January 2005, I stood at Uhuru Peak, the summit of the mountain they call the 'Roof of Africa', and my life changed once more. At last, I was ready to live the rest of my life.

On my return from Mount Kilimanjaro, my story was picked up by some of Malaysia's local news media and for a little while, I was suddenly thrust into the limelight.
The media exposure led to other opportunities to participate in breast cancer awareness campaigns, join a dragon boat team comprising breast cancer survivors and even walk the catwalk in a Christian Dior outfit for the very first 'Walk With PRIDE Gala Fashion Show' to raise funds for the PRIDE Foundation (now known as the Breast Cancer Foundation Malaysia).
As the years went by, I focused once more on my career at a toll highway company in Malaysia, although I continued to remain actively engaged in outdoor pursuits which included hiking/climbing and scuba diving as well as running in 10km road races, half-marathons and trail runs.

But then in 2016, my breast cancer returned! This time however, the cancer appeared in my lungs and I was officially restaged to Stage 4, indicating a cancer that has spread or metastasized. I had developed a pleural effusion and nodules around my lungs which affected my breathing and so I started a series of targeted hormone therapies that have kept my cancer under control since 2016 up until today.

In 2017, I made the difficult decision to resign from my job and retire early in order to remove work stress from my life as I was now living with metastatic Breast Cancer (mBC). I was fortunate as I had a retirement plan already in place and was financially prepared to stop working.
Nevertheless, it was a difficult decision to make as I was giving up a good
salary and excellent employment benefits in favour of an uncertain future. It was a scary thing to do.

Since my cancer returned in 2016, I have been closely monitored by my oncologist to try and delay progression of the disease. Treatments at a private hospital are expensive but I have been fortunate once again as I had put aside the payout from my critical illness insurance policies, which I took out some years before my initial diagnosis, for such a purpose.

In 2022, the pleural effusion worsened to the point where I needed to undergo chemotherapy again. In February this year, I did 12 more sessions of chemotherapy and underwent a procedure called 'tapping' to remove the fluid that had built up around my right lung causing the lung to collapse.

Despite the circumstances, I sang in a stage production of 'Get On Your Feet – The Musical' in March, performing the song 'Happy Talk' from the musical 'South Pacific'.
In September, I got to perform 'Happy Talk' a second time as we restaged the show to raise funds for Cancer Research Malaysia.

At a recent interview, I was asked if there was anything about my life that I would change or do differently, if I were given the chance. My answer was (and still is) 'No', as I feel that I am who I am today because of everything that I have been through in my life, cancer included.

My advice to anyone faced with a breast cancer diagnosis is to embrace what this means for you and to learn to live your life to the fullest, doing the things that you enjoy doing. I often remind myself that if I had not discovered that I had breast cancer then I would never have climbed a mountain or walked the catwalk in a fashion show.

Life is full of surprises and there is still much joy to be found even in times of adversity.
---
As October is the National Breast Cancer Awareness Month, Weekly Echo again pays tribute to another cancer survivor as she shares her cancer journey here. With a steely resolve and great determination, Rene'e Aziz Ahmad has survived for 22 years since she was first diagnosed with Stage 2 breast cancer in October 2001. Today, she is living with mBC or metastatic Breast Cancer, as the disease has progressed and metastasized to her lungs. But breast cancer has not stopped Rene'e from living her life.