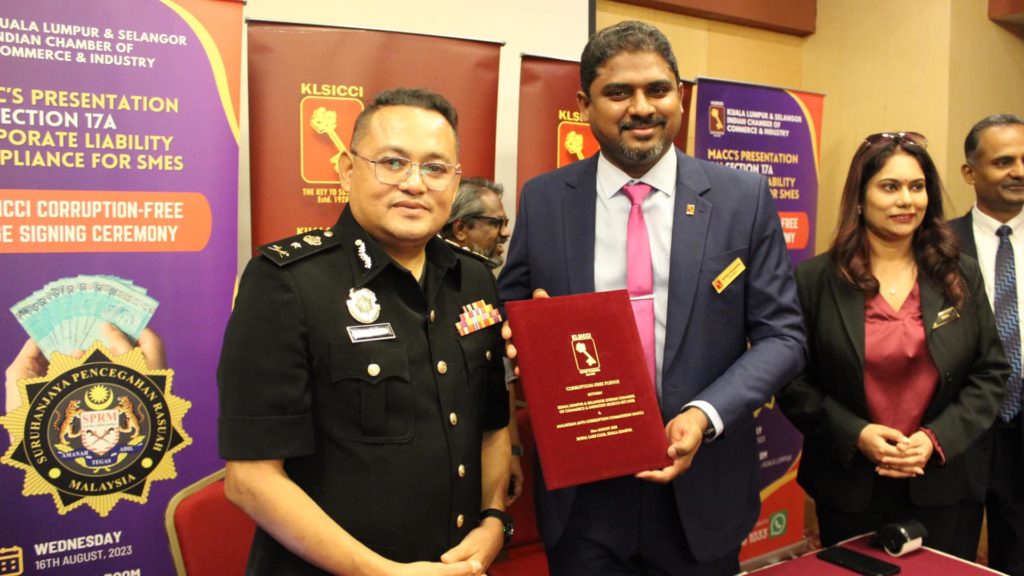 KUALA LUMPUR, Aug 19: The Kuala Lumpur and Selangor Indian Chamber of Commerce and Industry (KLSICCI) recently undertook a Corruption-Free Pledge as part of a move to raise awareness of Section 17A MACC Act (Corporate Liability Compliance) amongst its micro, small and medium-sized enterprises (MSMEs).
KLSICCI President Nivas Ragavan led the oath taking with members of the chamber's executive council and council members followed by a signing ceremony held at the Royal Lake Club here recently.
The event was witnessed by Senior Assistant Commissioner (SAC) Samsul Salip, Deputy Head of Malaysian Anti-Corruption Commission (MACC) Community Education Department.
A presentation on the Act governing Corporate Liability Compliance was also presented to participants at the event by Thilak Munusamy, Superintendant of MACC Community Education Division.
Thilak took the participants through the four categories that fall under commercial organisations under the Act, namely companies established under the Companies Act 2016, businesses registered under Partnership Act 1961, businesses registered under Limited Liability Partnership Act 2012 and local/foreign commercial organisations that conduct business or part of businesses in Malaysia.
— WE