PUTRAJAYA, Dec 4 – There has been no transparency, instead there have been breaches of regulations in the provision of licenses to several companies to carry out quarry operations in an area covering about 800 hectares in the Bukit Lagong forest reserve area, a political party, Green Party, alleged today.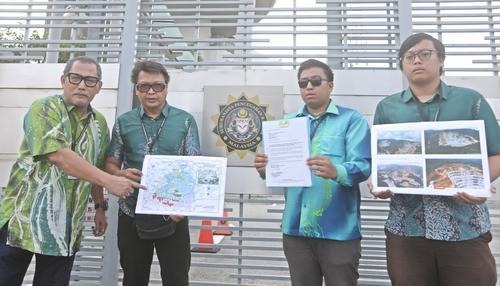 Handing over a memorandum to the Malaysian Anti-Corruption Commission office here, Green Party's pro-tem secretary-general Abdul Razak Ismail said today's memorandum was a follow up to a memorandum sent to the MACC Shah Alam in October last year.
Special officer to MACC Commissioner Tan Sri Azam Baki, Mohd Fadzil took receipt of the memorandum.
"Back then, they said as it was a high profile case, they would transfer it to MACC Putrajaya to handle. With a new government now, we would like to urge Prime Minister Datuk Seri Anwar Ibrahim to direct the MACC to speed up investigations," Razak told Weekly Echo.
What are the allegations that have been made against both the Forestry Department of Selangor and the Selangor State? Razak says the Selangor state has a 25-year moratorium on logging in forest since 2010, but the state and the forest department have circumvented around this and issued "Lesen Kecil" or small licenses to companies to carry out quarry operations in a total of 27 plots.
"In order to carry out quarry operations, the forests would have to be cleared and this is already an offence, considering the existing moratorium. Already 7 quarry plots are in operations in the area and their work may end this year. Once they exhaust the plot there, they will move into the new areas allocated nearby to restart their quarry operations," Razak said.
They would have to clear the forest, and this will be a breach against the moratorium.
Another rule has been also broken, where the concessions were given to the companies without any open tender, Razak alleged.
Amid this, some of the companies that have been given concessions are RM2-, RM5-, RM25- and RM100- companies, he alleged.
"This also raises questions about how the land was evaluated by the Forest Department. The value of the area will be about millions, and so how can RM2 companies with no assets, machineries be given the licenses to open quarries? These questions must be answered with transparency," Razak said.
"With our prime minister issuing stern warnings to government officers who are still on the take, the case of quarry operations in Bukit Lagong, could be investigated for any such instances," he said.
Razak also alleged that untrue claims were being made about members of the Selangor Royalty being involved in four companies that have been given concessions to carry out quarry operations.
"We believe this is not true and could be a ploy by some parties to keep the people "afraid" so that they would not make any noise about the issue, knowing that companies associated to the the royalties are involved. We believe the names of these companies are being used," Razak claimed.
–WE