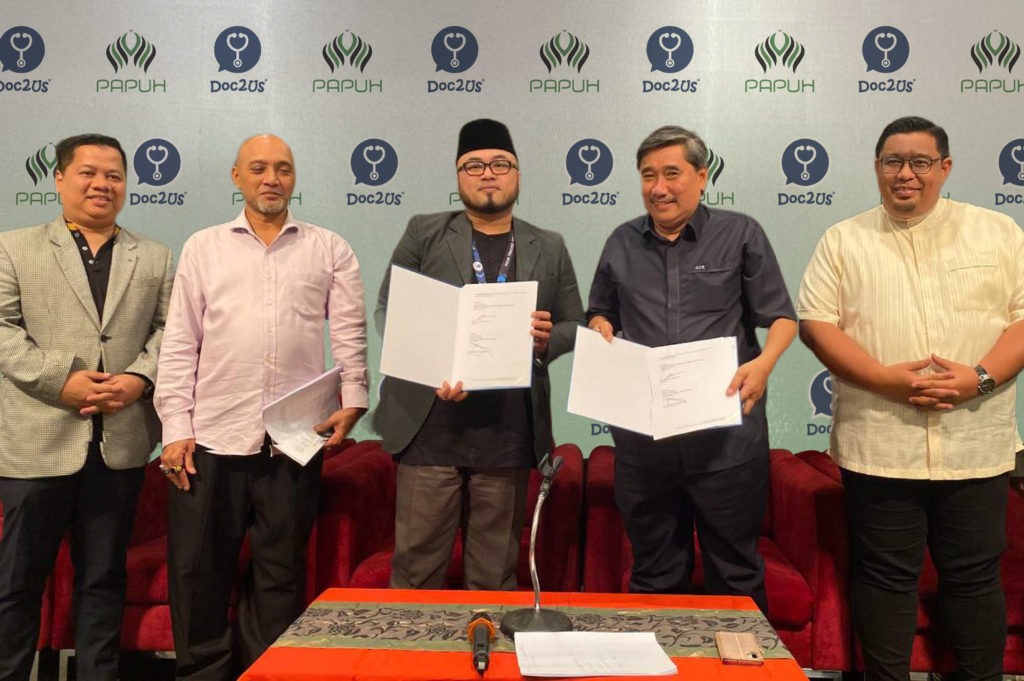 KUALA LUMPUR, Feb 20 – Umrah and Haj Travel Agency Association (PAPUH), the largest umrah
and haj association in Malaysia and DOC2US, Malaysia's first and largest e-prescriptions and digital health
provider, have signed a Memorandum of Understanding (MoU), aimed at ensure healthcare via digital help for those going on their Haj and Umrah pilgrimage.
The signing ceremony took place during PAPUH's annual general meeting held last Friday at the Grand Barakah Hotel, Kuala Lumpur, a press release from DOC2US on Monday said.
The collaboration will see the incorporation of digital healthcare services into travel packages of more
than 1000 registered agencies under PAPUH, aiming to include comprehensive end-to-end virtual
healthcare services for Malaysian pilgrims in their travels to Mecca and Medina for Umrah and Haj.
On meeting the healthcare needs of pilgrims, DOC2US' Director, Dr Shukri Said said the reopening of borders has resulted in a massive hike in pilgrimage travel, with Saudi Arabia now fully welcoming foreign pilgrims and that the company wanted to be present for the Malaysian pilgrims.
This is to ensure that they know that their health is cared for during their journey, with the value-added virtual healthcare services in their travel plans.
"We understand the frustration and worry of falling ill during their travel, particularly when pilgrims are
not in their element, or unfamiliar with the foreign language and culture across borders. It is also an
inconvenience when health and safety is compromised when on the move. Hence, with this MOU, our
pilgrims can have peace of mind when travelling for Umrah and Haj, alone or with their loved ones
knowing that their health and wellbeing are taken care of."
Under the partnership, the pilgrims will be provided with affordable and accessible integrated virtual healthcare services such as virtual consultation and virtual health advisory seamlessly through DOC2US' technology and platform. DOC2US will also offer pre-departure on-site vaccination services to protect pilgrims before their journey.
PAPUH's President Dato Sri Razali Mohd Sham said, "The cost to perform the Haj pilgrimage is getting
higher due to tax hikes coupled with the rising cost of accommodation, food and transportation.
Committed to our value of 'fardhu kifayah', PAPUH's partnership with DOC2US will provide our pilgrims
unlimited virtual consultation, via text, voice call or video call, with Ministry of Health (MOH) registered
doctors. This will also help our pilgrims to manage their expenses as medical costs could be higher in Saudi Arabia."
Currently, DOC2US has the largest telehealth ecosystem in Malaysia, with a network of over 1500 partnered pharmacy outlets and more than 1600 healthcare providers. Its integrated digital health ecosystem connects patients with licensed and registered healthcare providers anywhere and anytime making healthcare convenient for patients in need.
–WE