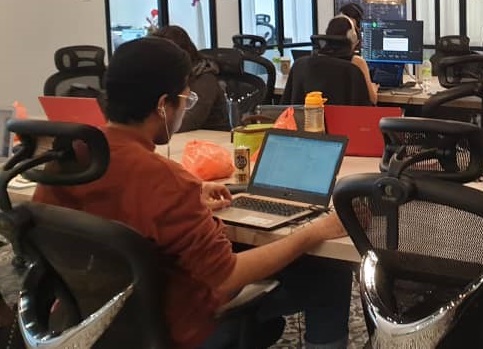 By Bhavani Krishna Iyer
KUALA LUMPUR, Sept 12 – The business community in Malaysia needs to urgently understand and adopt digital strategies to enable them to be competitive globally, says Kuala Lumpur and Selangor Indian Chamber of Commerce and Industry (KLSICCI) President Nivas Ragavan.
Only then can Malaysian companies, big and small, be sufficiently empowered digitally, to future-proof and compete, he said.
Speaking to Weekly Echo, Nivas said the time has been there for a long time for digital technology adoption but Malaysian companies have been complacent with many taking the wait-and-see attitude. "This has to change now."
To pursue this digital agenda for business, Nivas said KLSICCI made a courtesy visit to Malaysian Digital Economy Corporation (MDEC) recently to discuss potential collaboration and be part of the Malaysia Digital Initiative.
The national digital initiative focuses on the development of nine key emerging digital economy areas in the country and is intended to succeed the Multimedia Super Corridor (MSC) agenda and boost the country's digital economy.
Nivas said two main areas of focus would be the Tech Sectors and Tech Enablers.
He said via its upcoming collaboration with MDEC, the business chamber hoped to empower, upscale and accelerate its 1200 direct and 15,000 indirect members comprising Indian Micro, Small and Medium Enterprises ( MSMEs) to adopt digitalisation and automation which were key drivers of the Industry Revolution 4.0.
Nivas said Malaysia's direction is on a foothold of a five-year digital target plan to achieve RM50 Billion in digital and tech investment and in additional create 50,0000 jobs benefitting some 500 Fortune tech companies in the country.
"There is also plan to create five more Unicorn companies from the two we have now, which are Grab and Carsome. Unicorn companies are startups with a valuation of a minimum US$1 billion.
Having existed for 94 years, the KLSICCI is the oldest Indian based business organisation where the direct and indirect members are waiting to enter the world market, Nivas said.
"They must be upskilled and empowered to adopt digital business strategy and the Government's intensive efforts via MDEC could be leveraged on for short and long term benefits."
The sectors to come under tech focus will be agriculture, city development, digital services, health, finance, trade, content, tourism and Islamic economy.
"These nine sectors cover pretty much most of the industries our members are involved in and should serve as a touch-point for them to get started. In others words, there is something for everyone," he said, commending the efforts taken by MDEC to spearhead the initiative.
"The support system is already there and all we have to do is to tap on to move in the right direction for the businesses to survive and stay relevant in the age of digitalisation," he said.
Focus on the tech enablers meanwhile would cover eight key areas that drive the digital economy today.
As a first step toward this end, KLSICCI is going to hold its first collaborative event, a forum that will involve MSMEs in the country from the Malay, Chinese and Indian chambers of commerce and industry,
The event scheduled for end November is expected to provide a springboard for businesses to familiarise and move in synch with the national digital agenda.
The details will be out soon, Nivas said.
–WE