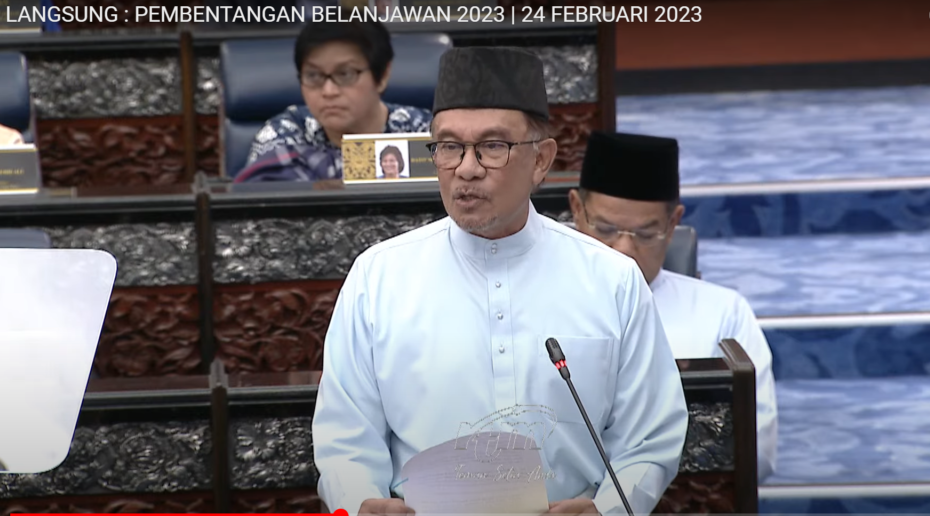 KUALA LUMPUR, Feb 24 – Prime Minister Datuk Seri Anwar Ibrahim tabled an expansionary budget of RM388.1 billion for the year 2023 at the Parliament today.
A total of RM289.1 billion will be for operating expenditure and RM99 billion for development including RM2 billion as contingency.
Anwar, who is also the Finance Minister, said the Budget, set amid the prevailing challenges facing the country both internally and externally, has been aimed at bringing benefits to all Malaysians with the vision of a shared prosperity under the Madani principles of integrity and compassion.
Anwar began the presentation of the Budget 2023 with outlining the current financial situation of the country, citing the high debts the new government has inherited at RM1.5 trillion (including liabilities) with RM46 billion alone going into servicing the debts.
He also spoke of the level of corruption, wastages, and leakages in public administration that has eroded the country's image as well. This has been reflected in the Corruption Perception Index by Transparency International, where Malaysia's position has dropped from a place of 29 to 61.
He also cited the Auditor General's Report, where the government was reported to have lost RM3 billion due to poor governance including weaknesses in the collection of vehicle import duties, leakages in subsidy diesel among others.
Anwar also pointed at the uncertainties in the global front including inflation with rising prices of goods brought on by the Ukraine-Russia war, an easing economic growth globally as well as the reduced investments to Malaysia, a higher unemployment rate and a low average income of RM1,700 for youths in 2021.
The Madani Budget 2023 hence would need to bring together all strengths and energies together to recover the country from a sluggish economy with new ways and achieve the objectives of a sustainable and inclusive economy, institutional reforms and social justice to correct imbalances.
The full Budget speech, outlining the various cash assistance programmes for the hardcore poor, to subsidies and other assistance for the B40 groups including training programmes, as well as tax measures and allocations for the various ministries, can be found at the Finance Ministry's website at: https://budget.mof.gov.my/en/
— WE