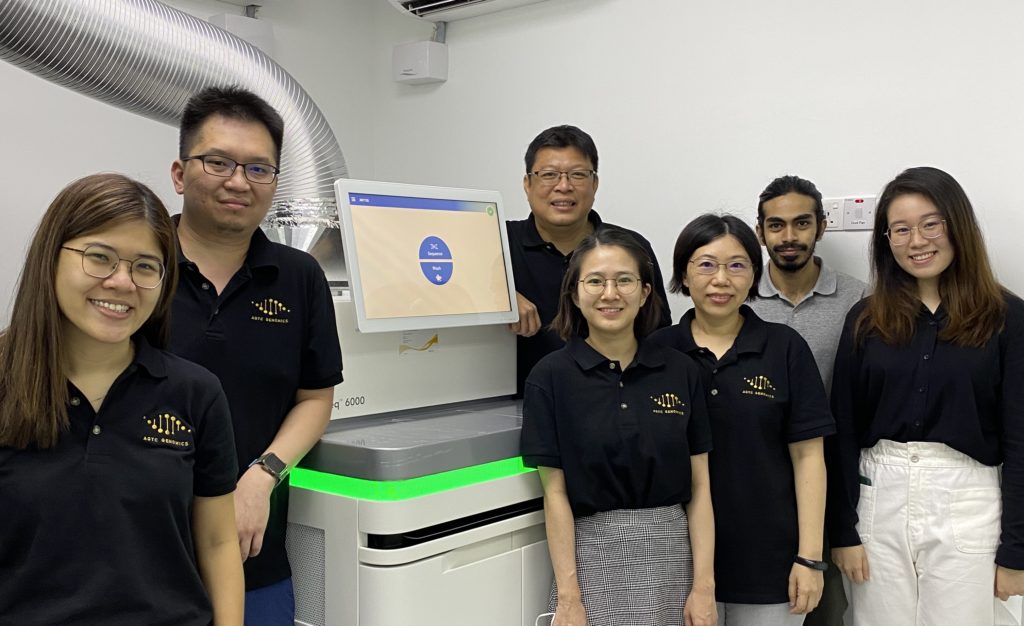 KUALA LUMPUR, May 17 – Once upon a time, advanced genome testings and sequencing that were needed by medical practioners or researchers were usually done out of Malaysia, but this does not have to be the case anymore, says Dr Chee-Onn Leong, CEO of Advanced Genomics Technology Centre (AGTC) Genomics Sdn Bhd.
Speaking to Weekly Echo recently, Dr Leong said Malaysians now have access to the NGS (Next Generation Sequencing) platform, that was revolutionising the way diseases could be detected, diagnosed and treated through rapid and efficient genome analysis.
Explaining on AGTC Genomics's use of the Illumina NovaSeq 6000, the world's fastest production scale sequencer at its centre in Bukit Jalil here, he said the company was the first in Malaysia to have access to the cutting-edge technology.
This opens up the door for accuracy in the detection of diseases and consequently the most appropriate treatment for patients, said Dr Leong.
The company, which provides genomics services and solutions in Malaysia as well as regionally, also deploys the DRAGEN Bio-IT, Illumina's highly accurate and ultra-rapid secondary analysis software to process the large amount of unprocessed sequenced data produced by the NovaSeq.
"It took 13 years and US$3 billion to sequence the first human genome back in 2003. But with this new technology at AGTC Genomics, we can sequence 50 human genomes in less than two days. By capturing a vast amount of genetic information about any disease in such a short space of time, we expect this technology to supercharge our detection, diagnosis and treatment of diseases, and drive discoveries at an even faster rate. This has the potential to save the lives of millions of Malaysians and we are proud to be the first to bring in this technology," he said.
The NovaSeq6000 is expected to increase the number of samples sequenced drastically and reduce the cost of precision medicine significantly, enabling researchers and clinicians to read and decipher genetic information more quickly.
This information can then be used in the diagnosis of diseases or to help find the best treatment to target cancer cells in patients.
The same technology can also be used to fight infectious diseases; most notably, COVID-19 genome sequencing and surveillance.
In a press release issued earlier by AGTC Genomics, Gretchen Weightman, Head of Global Commercial Strategy and General Manager of Asia Pacific and Japan at Illumina was quoted saying that there was a vital need to make genomic technology and precision medicine available to all.
By enabling the performance of genome sequencing in Malaysia on a national scale, Malaysians will be able to receive more individually tailored therapies which will improve overall patient care.
"One key area we are keen to use the NovaSeq6000 sequencer for is to discover new ways to offer the best available treatment for each individual cancer patient's disease. If we can do this, we should be able to revolutionise how cancer patients are being treated. With the NovaSeq6000 system, this kind of work is now feasible", added Dr Leong.
Asked on the current market for its clinical testings and services, Dr Leong said it was growing and that the company was already approaching several hospitals for the use of their services. He, however, said there were more clients outside the country using their services now.
Having the service here right in Malaysia, people don't have to wait to get their genome analysis done overseas and this will save time and cost as well when the detection of diseases needs to be done more urgently.
Genome sequencing is not only applicable in the diagnosis of existing diseases but it also helps look at a future picture of a person's health as well. With the kind of gene information and the type of predisposition a person might have towards a disease, this advanced sequencing analysis will also help the person take precautionary methods toward a disease, said Dr. Leong.
Beyond biomedicine, the new facility at the centre also has exciting applications in the agricultural and environmental industries.
— WE