KUALA LUMPUR, Aug 5 – A record 20,596 new cases of Covid-19 were reported today, with Selangor continuing to report the highest number with 8,549 new cases.
The state of Johor saw 1,300 cases. This is a worrying uptrend said Member Parliament for Bakri, Yeo Bee Yin in a statement today, where she also called on the state and federal governments to act immediately before the state becomes the next Klang Valley.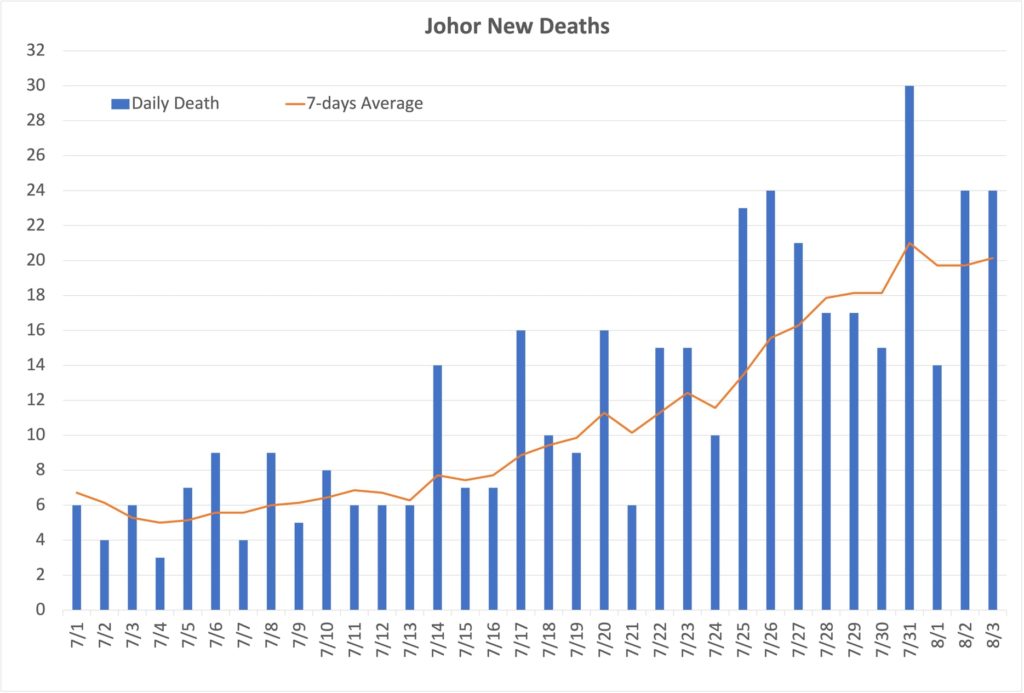 Referring to rising new cases and increased death numbers (as shown in the above two graphics) in the state, she said this was more than 150 percent increase from mid-July until now.
She also said the rate of vaccination in Johor vaccination was the second lowest in Malaysia with only 17.8 percent of its adults fully-vaccinated while 45.1 percent of adults received first dose.
The Delta variant is already detected in a number of districts in Johor while the capacity of intensive care units (ICU) was at 85 percent of the total capacity and 132 percent of original ICU beds (which are generally of better quality).
With admission of Covid ICU cases at 121 percent of total ICU beds allocated for Covid, this is also taking up ICU beds meant for non-Covid cases and further increas in Covid ICU hospitalisation will reduce the quality of care for both Covid and non-Covid patients, Yeo Bin said.
With all the indications of high infectivity rate, low vaccination rate, arrival of Delta and ICU facilities running short is a recipe for disaster if nothing is done now, she said, urging the government to run an Operation Surge Capacity (OSC) in Johor to ramp up vaccination program as soon as possible.
There also needs to be an increase in the state health department's ability in Find, Test, Trace, Isolate and Support (FTTIS).
"In addition, Johor state government must give instructions to all District Officers (DOs) to give full cooperation in expanding testing. Currently, elected representatives in some districts in Johor are facing problems in getting DOs support in running proactive community testing."
The state must also expand its ICU capacity, plan and mobilize the additional human resource needed and increase the number of equipment and facilities needed for Covid treatment, she said, adding that elected representatives from both sides of the political divides will give their full support to such an effort.
–WE