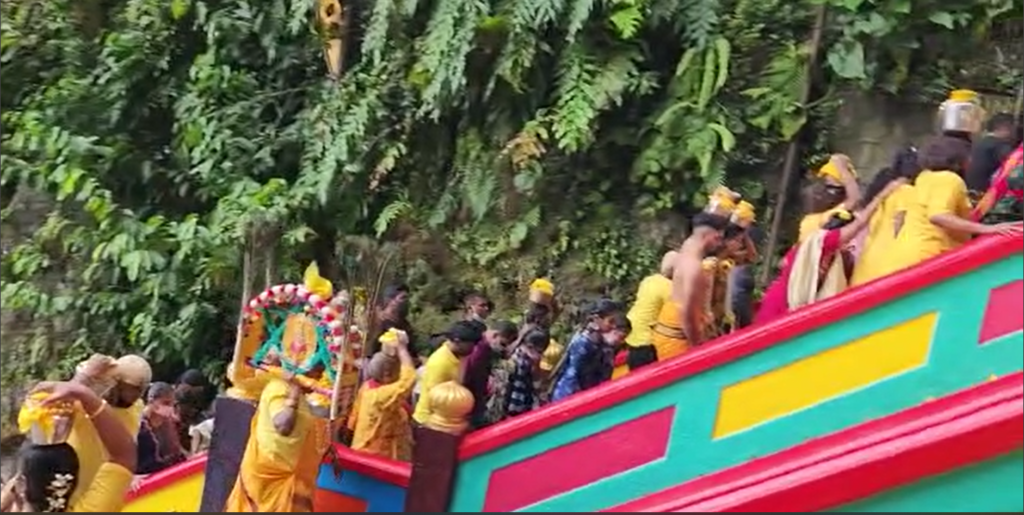 Photos by Bavani RJ Devan, Eurieca Tissa
KUALA LUMPUR, Feb 4 – The colours and sounds of Thaipusam have returned to Batu Caves – the main venue for Thaipusam celebration for those in the Kuala Lumpur and Selangor areas – after the Covid-19 pandemic prevented any full-scale celebration for the last two years.
This year's celebration saw a good number of tourists at the event with most travel restrictions put in place during the pandemic lifted off.
A writer from the UK was among the many tourists who had turned up to witness the celebration. Speaking to Weekly Echo, she said she was undertaking some research on the festival and hoped to publish a book soon on the unique celebration of Thaipusam.
Thaipusam, which falls during the full moon in the month of Thai in the Indian/Tamil calendar is devoted to the worship of Lord Subramaniam or Muruga with devotees paying homage to the deity and expressing their appreciation with the gifts of fruits, flowers and milk or giving their thanks for having their boons fulfilled and seeking His continued blessings.
The journey of thanksgiving at the Batu Caves, which begins with a bath in the river, and the climbing of 272 steps to the Subramaniam temple inside the caves, is done in many ways. Sometimes a devotee takes a simple pal kodam (pot filled with milk) that is offered at the temple located in the caves.
Many also carry simple and colourful kavadis, a pole that is slung across the shoulders. The simple ones are usually decorated with flowers and an image of Muruga or Ganesha with the devotee bearing fruits, flowers or milk while the more complicated ones will also see devotees with body piercings as well. The body piercings are also removed at the end of the journey.
The devotees preparation for the journey would have begun a month earlier with fasting and strict vegetarian diet. Family members, relatives and friends usually accompany those carrying the kodams or kavadis with chanting, devotional songs, and music.
While some opt to carry out their thanksgiving earlier in the week to avoid huge crowds that start on the eve of Thaipusam, many also start very early in the morning on Thaipusam day itself, which for this year is today, Sunday, February 5.
–WE